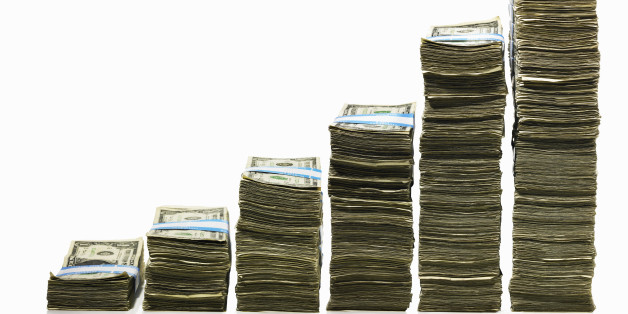 A new survey is suggesting charities are climbing out of the Great Recession with the rest of America -- and their leaders are reaping the benefits.
After years of barely keeping up with inflation, the paychecks for charity executives of large nonprofits are beginning to get bigger, according to The Chronicle of Philanthropy's annual compensation survey. Of the 82 organizations examined in the study, the median salary of charity executives increased by 4.9 percent between 2011 and 2012.
"Organizations have a bit more money, and they're willing to bid up salaries," Brian Vogel, a compensation consultant, told The Chronicle of Philanthropy. "The market is stiffening just a bit."
While some may scoff at multimillion-dollar salaries for anyone working in the nonprofit sector -- The Street pointed out some nonprofit leaders rake in more than $1 million a year, after all -- a Charity Navigator compensation study released last year argued that organizations need talented, valuable people to move their causes forward.
"Many donors assume that charity leaders work for free or minimal pay and are shocked to see that they earn six-figure salaries," the study pointed out. "But well-meaning donors sometimes fail to consider that these CEOs are typically running multimillion-dollar operations that endeavor to help change the world." 
The Overhead Myth was launched by the CEOs of three major sources of charity information -- BBB Wise Giving Alliance, GuideStar and Charity Navigator -- to educate donors on why overhead costs, like human resources staff and information technologies, are crucial to charities trying to reach their goals. While an executive's salary is not considered an overhead cost, the group disputes the argument that too often an excess amount of funds go toward an organization's leader's paycheck.
"As for the question of extreme salaries, our data indicates that these circumstances are relatively rare," the Overhead Myth's website states. "Rather, it is far more of a problem that nonprofit employees are under-paid than over-paid ... Of course, there are instances in which nonprofits do not act in good faith and pay their executives at levels beyond what the market would dictate."
While a bump in charity executive pay may be a good sign for nonprofits trying implement positive change, executives at for-profit companies may be experiencing larger post-recession gains: Their salaries increased by 9.5 percent between 2012 and 2013, an Equilar study showed, as Bloomberg BNA reported.
BEFORE YOU GO
PHOTO GALLERY
How Much Leaders Of The Biggest Religious Nonprofits Get Paid