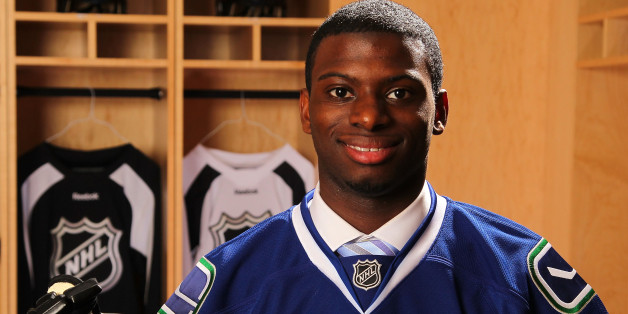 Canadian newspapers The Vancouver Sun and The Province both issued a gigantic mea culpa today, after publishing a photo Tuesday night with a caption that identified black Vancouver Canucks player Jordan Subban as the "dark guy in the middle:"
That picture is legit. Wow @VancouverSun... What are you thinking? pic.twitter.com/31pM1O8d5y

— Greg Balloch (@GregBallochST) September 24, 2014
@GregBallochST Just realized this isn't a Vancouver Sun exclusive. pic.twitter.com/kiTJm93pl1

— A (@Lucmeister) September 24, 2014
Gillian Burnett, the Sun's deputy editor, stepped in to modify the photo caption soon after readers alerted her to the problem on social media. Burnett placed blame for the cutline on the photographer who wrote it, acknowledging it "should NEVER have been written, let alone made it online."
Both papers, which are owned by the same parent company and had access to the photo, apologized on Twitter following the incident and pledged to investigate the matter further.
In a followup article published Tuesday, Subban downplayed the caption as "a pretty honest mistake" to The Province, then sought to redirect the conversation.
"If people should be talking about something, it should be the way I played last night," Subban told the paper. "It was just unfortunate. I don't think there were any bad intentions. It is what it is and I've moved on and I'm sure everyone else will, too."
BEFORE YOU GO
PHOTO GALLERY
The 30 Greatest African American Athletes of All Time