Not one, not two, and not even three -- but four fantastic fireball events were reported Tuesday along the East Coast and in the Midwest, the American Meteor Society said.
The bright fireballs all came within a 90-minute timespan, according to the society. Multiple fireball events in a single evening are considered rare.
(Story continues below)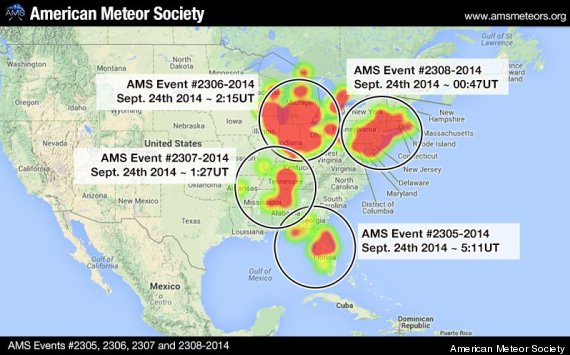 A heat map of where and when the four fireball events occurred.
The abundance of fireballs caught the attention of the twitterverse. "Is it possible that these [four] events are related to a recent (but very small) fragmentation event from a parent body," Twitter user Kevin Heider asked the American Meteor Society in a tweet Wednesday.
Actually, the society said evidence suggests that the fireballs were unrelated.
No matter what, the fireballs put on a spectacular show--just check out the photo below:
#Fireball over Michigan caught on Camera (bill ongo) http://t.co/Tsa4PqtgPP #citizenscience #ams pic.twitter.com/14DyuplzQm

— AMSMETEORS (@amsmeteors) September 25, 2014
BEFORE YOU GO
PHOTO GALLERY
Orbital Debris Surrounding Earth