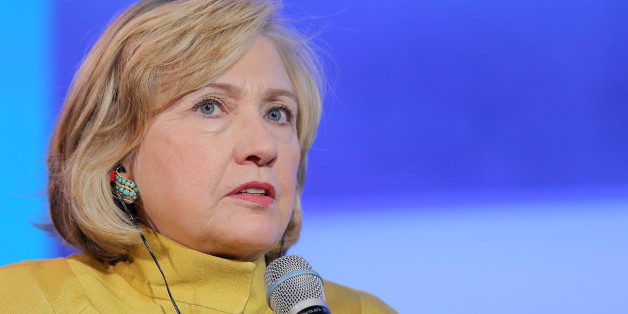 Journalists attending the annual Clinton Global Initiative have reportedly been kept in close quarters and given not so much as the freedom to go to the bathroom alone.
New York Times reporter Amy Chozick wrote about her experience on Wednesday, describing the basement where journalists were held, tight security presence and the press aide who actually followed her to the bathroom stall.
[T]he person who stands out is the friendly 20-something press aide who the Clinton Global Initiative tasked with escorting me to the restroom. She waited outside the stall in the ladies' room at the Sheraton Hotel, where the conference is held each year.

Security, foundation aides told me, dictates that the hordes of journalists, many of them from overseas news outlets, be cloistered in a basement at the Sheraton. An elaborate maze of security barricades separates where reporters enter and roam (though not freely) from the lobby of the hotel, where actual guests enter.
Chozick added that the ability for reporters to walk around "freely" at Bill, Hillary & Chelsea Clinton Foundation events ceased last year, after rumors began to circulate of Hillary Clinton's potential 2016 presidential run.
The Huffington Post's request for comment from the Clinton Foundation was not immediately returned.
Also on Wednesday, more press restrictions under the Obama administration came to light when a Washington Post report revealed that Obama aides have been making changes to the White House press-pool reports in order to "steer coverage in a more favorable direction." It's the latest conflict in the growing battle between journalists and the White House over press access.