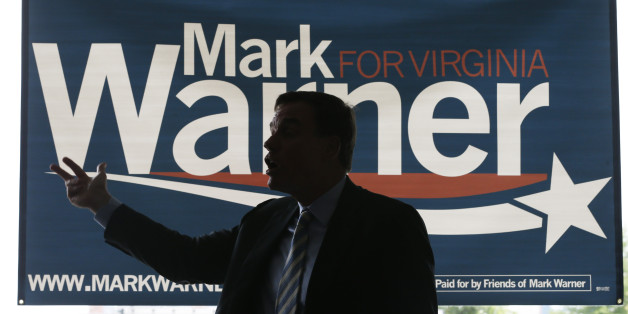 Polls show Democrat Mark Warner leading by a mile in Virginia. Another new survey confirms a close race in Arkansas. And since we are observing Rosh Hashanah, this is an abbreviated HuffPollster for Thursday, September 25, 2014.
Virginia - Two new polls show Democrat Sen. Mark Warner holding a significant lead over his Republican challenger Ed Gillespie. A new Quinnipiac University poll released on Thursday morning gives Warner a 9 percentage point lead (48 to 39 percent), while a Roanoke College Poll released on Wednesday gives Warner a bigger lead (46 to 27 percent) but with a much larger number of uncertain voters (22 percent) still undecided (just 7 percent were undecided on the Quinnipiac poll). The two surveys give Libertarian candidate Robert Sarvis 6 and 5 percent support respectively. Sarvis won 6.5 percent of the vote in Virginia's gubernatorial election in 2013. The HuffPost Pollster tracking model, based on all publicly available polls, gives Warner a margin of just over 20 percentage points (50.1 to 30.4 percent) and rates his reelection a near certainty. [Quinnipiac, Roanoke, Pollster Virginia chart]
Sen. Warner received net positive ratings from Virginia voters on both polls, earning him the title of "most popular politician in Virginia," according to the Quinnipiac release. More than half the likely voters interviewed in their survey (52 percent) rated Warner favorably, while just 34 percent rated him unfavorably. Warners numbers in the Roanoke College poll were 58 percent favorable, 19 percent unfavorable. By contrast, Republican Gillespie remained relatively unknown, with a favorable rating of just 34 and 20 percent respectively in the Quinnipiac and Roanoke polls.
Arkansas - The day after the Democratic firm PPP finds Republican challenger Tom Cotton leading by 5 percentage points (43 to 38 percent) over Democratic Sen. Mark Pryor, a new USA Today/Suffolk University poll gives Pryor the edge by two points (45 to 43 percent). The HuffPost Pollster model continues to rate Arkansas as one of the closest Senate contests, giving Cotton an advantage of less than two percentage points and a probability of winning in November just 53 percent. [USA Today, Pollster Arkansas chart]
Georgia - A new automated poll from SurveyUSA and Atlanta's WXIA-TV 11Alive finds an "effectively even" U.S. Senate race, with Republican David Perdue at 46 percent and Democrat Michelle Nunn at 45 percent. Because 5 of the prior 6 Georgia polls have given Perdue nominal leads, the HuffPost Pollster tracking model gives Perdue an advantage of nearly 5 percentage points, and projects a roughly 70 percent probability of running ahead on November 3. However, Georgia requires a runoff election if neither candidate tops 50 percent. Since Libertarian Amanda Swafford winning anywhere from 4 to 7 percent of the vote in recent polls, a Georgia runoff remains a distinct possibility. [SurveyUSA, Pollster Georgia chart]
Overall Senate outlook - The new polls make little change in the overall Senate outlook since Wednesday. The polling snapshot current tips to Republicans, but just barely, with razor thin advantages in Arkansas, Iowa and Alaska showing a path to a 52 seat Republican majority, but with just 57 percent certainty -- just one percentage point lower than on Wednesday morning. Kansas would only come into play if independent candidate Greg Orman wins and if Republican win just 50 seats elsewhere, as Orman has stated he would join the party caucus of whichever party wins a majority of seats. [HuffPost Senate Outlook]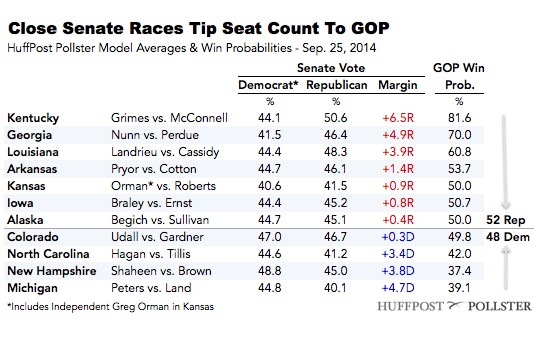 HUFFPOLLSTER VIA EMAIL! - You can receive this daily update every weekday morning via email! Just click here, enter your email address, and and click "sign up." That's all there is to it (and you can unsubscribe anytime).
THURSDAY'S 'OUTLIERS' - Links to the best of news at the intersection of polling, politics and political data:
-Nicole McCleskey (R) challenges Anna Greenberg's assertion that 'Security Moms' are a myth; Greenberg (D) isn't buying it. [POS, @Anna_Greenberg]
-Bill McInturff (R) sees evidence that the election cycle is breaking towards Republicans. [POS]
-Andrew Kohut sees a GOP edge in 2014, but says it isn't as strong as everyone thinks. [Politico]
-A majority of Americans continue to say a third party is needed in the U.S. [Gallup]
-New Jersey Gov. Chris Christie's (R) job approval numbers have slipped slightly since June. [Monmouth University]
-Majority of Americans say NFL sponsors should cut ties with the League because of its handling of players accused of domestic violence. [Reuters]
-Karthick Ramakrishnan pushes back against the hypothesis that the GOP is likely to pick up votes from light-skinned minorities. [WashPost]
-Philip Bump runs through the history of third party candidates for president. [WashPost]
-Nate Cohn sees Kay Hagan as surprisingly strong in North Carolina. [NYT]
-Harry Enten says a Georgia runoff looks increasingly likely. [538]
-Bill McInturff (R) is optimistic about the GOP's midterm chances. [POS]
-Pew Research examines why a record share of Americans have never married. [Pew]
-Charles Franklin makes the case for poll aggregation. [The Capital Times]
-Tom Pepinsky, Edmund J. Malesky, Nathan Jensen and Mike Findley put forward a new idea in social science: judging articles submitted to journals based on the theory and methodology in the article, rather than the results. [WashPost]
BEFORE YOU GO
PHOTO GALLERY
George H.W. Bush's Sock Styles