Whether you're on a health kick or just a big fan of greens, bringing a fresh salad to work is always a good idea -- except for one thing. Putting the dressing on the salad while you're at home can make for a soggy meal when lunchtime rolls around.
Sure, you could put the dressing in a separate Tupperware, but why bring two containers to work when you only need one? Food author Julia Mirabella tells #OWNSHOW about a trick she uses to transport her salad and dressing in one, and it's incredibly simple.
Typically, Mirabella suggests adding your salad ingredients as layers in a Mason jar, beginning with the salad dressing and following that with the hard vegetables that won't wither when they sit in liquid. While this method works for many salads, it's not a blanket solution, especially when it comes to a salad with more soft fruit than hard veggies.
"Some of my favorite salads don't have hard vegetables... One of my favorite fruit-based salads is strawberry, goat cheese [and] walnuts with spinach," Mirabella says. "That's fantastic, but, really, you can't have your strawberries sitting in your vinaigrette."
A better idea, she says, is to add the dressing last -- but with a twist.
"I recommend taking parchment paper, or you can use something like Saran wrap, and making an 8-by-8-inch square. Then you take that little square and you kind of make a cup at the top of your Mason jar," Mirabella explains. "You can pour your dressing into that cup."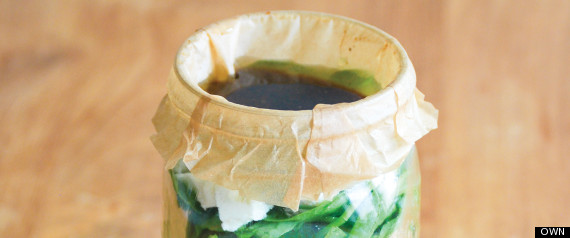 For anyone who thinks this method is prone to messes, fear not. "You seal the jar and it's still water-tight," Mirabella says. "You can turn it over, it won't leak. It keeps your dressing separate from your salad greens and your fruits."
BEFORE YOU GO
PHOTO GALLERY
12 Mason Jar Salads