"I think the Internet is very exciting, because you can collaborate with other people all over the world," Nam June Paik said in an interview in the year 2000. "It is almost like a string quartet -- four people playing together. We can do this kind of thing on the Internet. And from contact new things can emerge."
He continued: "I have a small site on the World Wide Web. But I am 68 now, and my eyes have become bad in the last three years. I can't read the small letters on the screen. And I never learned to type."
It sounds like a response not all too different from your average retiree navigating the alien terrain of the web. But Korean artist Nam June Paik is no stranger to the wonders of the internet. In fact, he was one of the first to predict them. Paik, the multimedia artist, dubbed the "father of video art," is often credited with theorizing the possibility of an Internet-like network, popularizing the term "electronic superhighway" in 1974.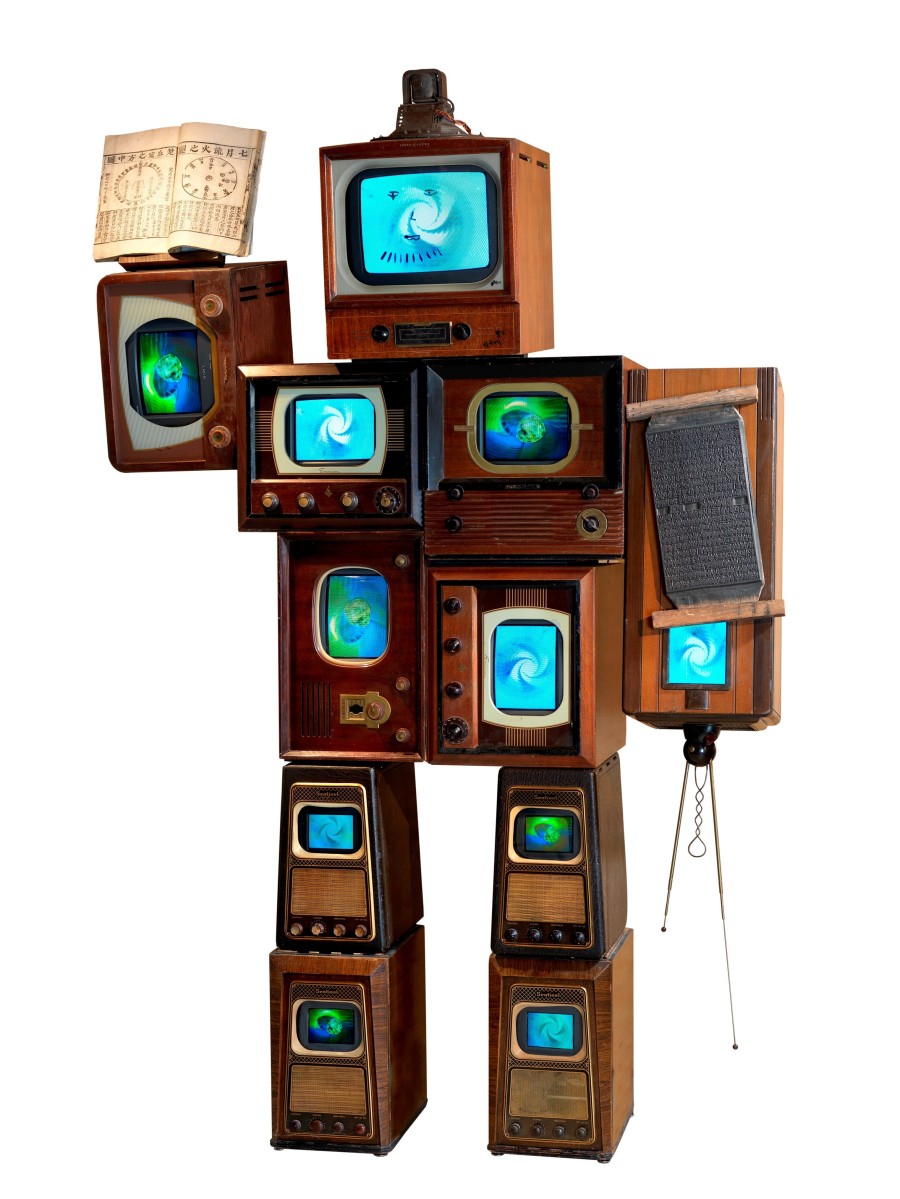 Li Tai Po, 1987. 10 antique wooden TV cabinets, 1 antique radio cabinet, antique Korean printing block, antique Korean book, 11 color TVs. 96 x 62 x 24 in. (243.8 x 157.5 x 61 cm). Asia Society, New York: Gift of Mr. and Mrs. Harold and Ruth Newman, 2008.2. Photo credit: © 2007 John Bigelow Taylor Photography, courtesy of Asia Society, New York
"Paik saw new forms of electronic communication as linking the whole country, its past and its future," Richard Kurin wrote in The Smithsonian's History of America in 101 Objects. "Rather than automobiles traversing the nation's interstate highway system, electronic pulses would tie Americans together."
Paik was born in Seoul in 1932, the youngest of five siblings. He studied classical music growing up, slowly becoming more and more interested in the experimental music scene. After graduating from college in Tokyo, Paik moved to Germany where he connected with artists including Joseph Beuys and John Cage. He eventually found himself in New York City, participating in the burgeoning Fluxus movement, which privileged chance, absurdity and participation.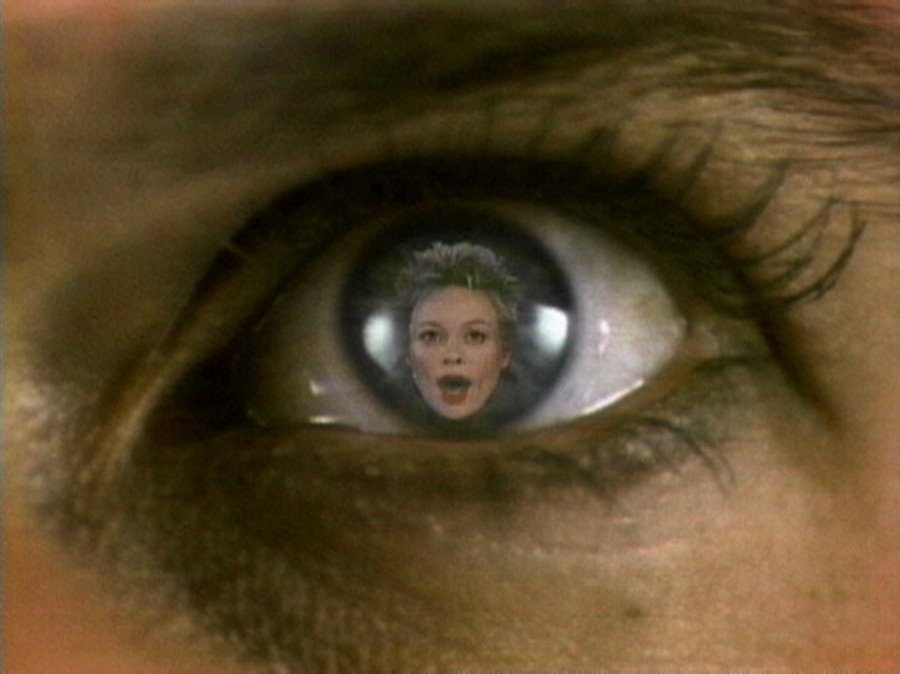 Still from Good Morning Mr. Orwell, 1984. Video, color, sound. 38 minutes. Courtesy Electronic Arts Intermix (EAI), New York Photo credit: Courtesy Electronic Arts Intermix (EAI), New York
Televisions and personal videotape recorders became Paik's artistic media of choice, along with the affixed repercussions for a future globally connected through bits and bytes. "This is a glimpse of the video landscape of tomorrow," says Paik's 1973 video Global Groove, "when you will be able to switch to any TV station on the earth, and TV Guide will be as fat as the Manhattan telephone book."
On New Year's Day in 1984, Paik collaborated with Salvador Dali, John Cage, Laurie Anderson, and Allen Ginsberg on "Good Morning, Mr. Orwell," what is now often called the "first international satellite installation." The piece "linked live transmissions from each of the artist's locations across the United States, France and Germany, and illuminated the family rooms and faces of over 25 million viewers." The work, which aired nationwide in the US on public television and reached an audience of over 25 million viewers internationally, was a rebuttal to Orwell's dystopian prophecies for the coming year.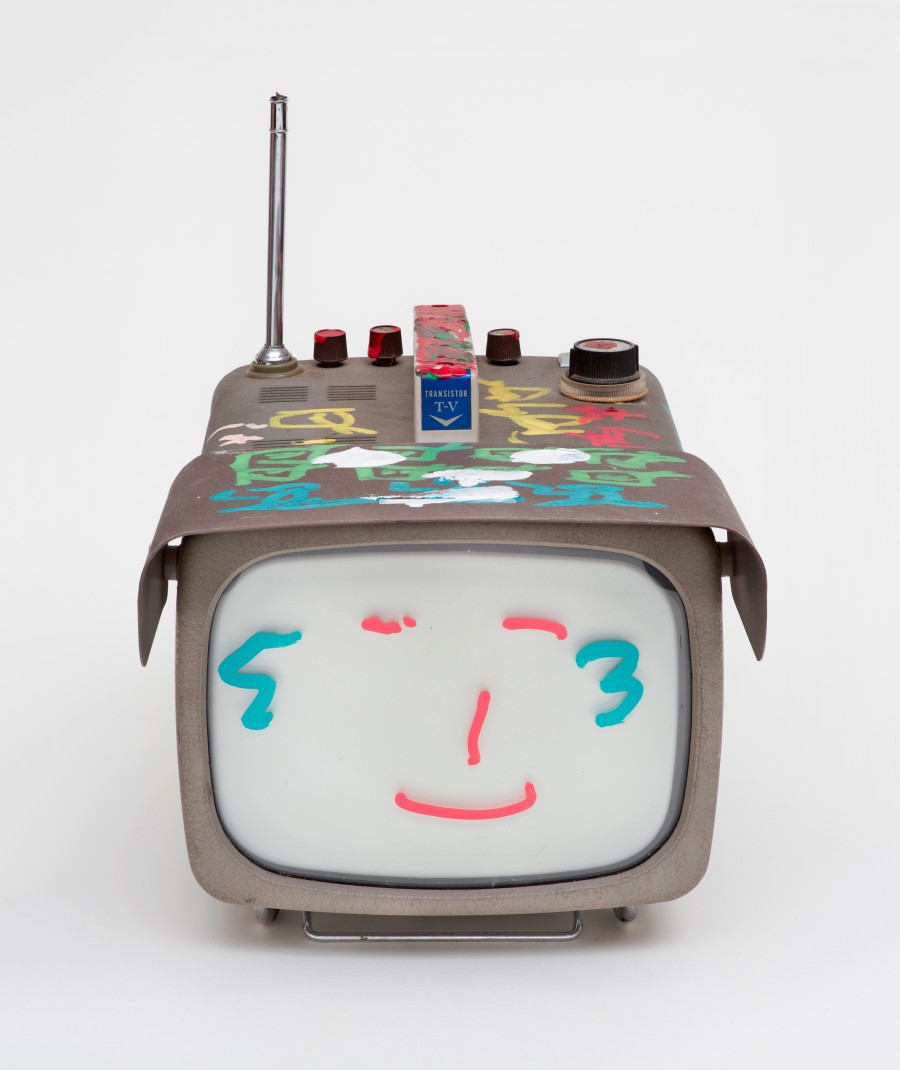 Transistor Television, 2005. Permanent oil marker and acrylic paint on vintage transistor television. 12½ x 9½ x 16 in. (31.8 x 24.1 x 40.6 cm). Nam June Paik Estate Photo credit: Ben Blackwell

Paik's sculptures, incorporating technology as both medium and message, are as playful as they are foreboding, frighteningly contemporary despite their now obsolete technologies. His 1987 piece "Li Tai Po" is a friendly looking robot composed of 10 antique wooden TV cabinets, one antique radio cabinet, one antique Korean printing block, one antique Korean book, and 11 color TVs. The screens swirl with Day-Glo galaxies that predate screen savers, communicating an image at once nostalgic and futuristic. Later, in 2005's "Transistor Television," Paik would adorn a white television screen with a doodled happy face, turning the outdated vessel into a clunkier Etch-A-Sketch.
"Nam June Paik: Becoming Robot" is the first New York exhibition dedicated exclusively to the artist since his death in 2006. The show focuses on Paik's artistic process and his philosophy of technology, especially as it relates to the human body and culture at large. Featuring artworks never before seen in the U.S., the exhibition depicts Paik's wild, multidisciplinary vision, that connected the worlds of art, science, information and popular culture in ways never before imagined. The show runs through January 4, 2015 at the Asia Society Museum in New York.
PHOTO GALLERY
Nam June Paik: Becoming Robot
BEFORE YOU GO
PHOTO GALLERY
Architecture Of The Future