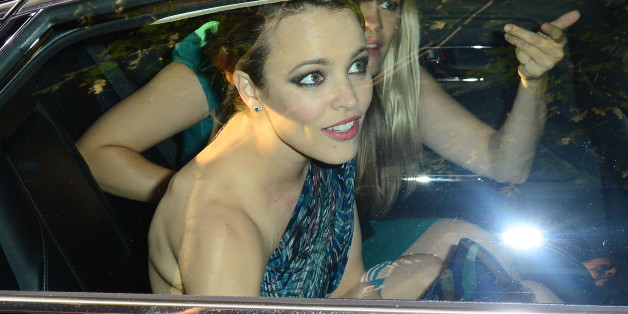 Reports that Rachel McAdams will star alongside Colin Farrell and Vince Vaughn have reached stage-5 clinger status. Three weeks after McAdams was first attached to Season 2 of "True Detective" in a Variety report on Justin Lin's involvement, the venerable Hollywood trade has once again connected McAdams to the HBO series.
According to Variety, HBO has offered McAdams the female lead role in "True Detective." A representative for HBO told HuffPost Entertainment that they had nothing to confirm at this time; McAdams' representatives also had no information to provide.
If McAdams does join "True Detective," it'll turn the show into a backdoor "Wedding Crashers" reunion. McAdams and Vaughn, who was confirmed as part of the show in an HBO press release this week, starred in the 2005 comedy. Fans on Twitter were quick to note the connection after Variety's story published on Thursday afternoon:
#TrueDetectiveSeason2 AKA Wedding Crashers

— Sam Stryker (@sbstryker) September 25, 2014
It's no coincidence that you've recruited integral parts of the Wedding Crashers cast, second season of True Detective. We see you.

— Jessica Faith Wright (@jayeffdoubleyew) September 25, 2014
TRUE DETECTIVE: WEDDING CRASHERS!

— Brian Duffield (@BrianDuffield) September 25, 2014
True Detective season 2 turns out to be a prequel to Wedding Crashers

— Smallest Lew-man (@strongest_human) September 25, 2014
Dark Wedding Crashers RT @BuzzFeed "True Detective" Season 2 Close To Naming Rachel McAdams As Its Female Lead http://t.co/jsJHQIwxSb

— Scott Horlbeck (@scott_horlbeck) September 25, 2014
In addition to Vaughn, Farrell and possibly McAdams, Variety notes that Taylor Kitsch could also play a key role on the new season of "True Detective." HuffPost Entertainment contacted Kitsch's representative for comment on the Variety story; this post will be updated if and when the respond.
For more on "True Detective" Season 2, check out our exhaustive rundown of its many rumored pairings. The full story on McAdams can be found at Variety.
BEFORE YOU GO
PHOTO GALLERY
"True Detective"