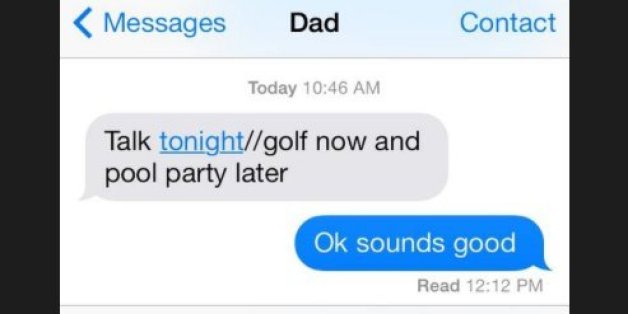 Did your teen just head off to college? Or did your boomerang kid finally get a job and move out of your basement? Do you find yourself not knowing what to do with all your extra free time? Or crying into your morning coffee? Or looking at old photos? Snap out of it, folks.
While it's normal to miss your kids and look forward to their visits home, there's no reason you shouldn't be reconnecting with your spouse, living it up, and making the most of your newfound freedom. Still not sure? Then check out these parents who will inspire you by demonstrating all the things you CAN do in your new empty nest:
You can dress up as whatever you want for Halloween, without your kids rolling their eyes at you.
Empty nest allows new freedoms. Me & my groovy girl. ✌️ #HippieHalloween pic.twitter.com/xg6c0lhobd

— Ronny Young (@ronnyayoung) October 5, 2013
You can go to happy hour instead of on school-runs.
My parents have more fun than I do. #emptynesters #tequilatuesday pic.twitter.com/3Kh1zcx3eD

— Hungover Hippie (@hungoverhippie) July 30, 2014
You can take that road trip you always wanted to... without your noisy kids in the backseat.
Let our mystery trip begin! #destinationunknown #emptynesters #LetTheFunBEGIN @jefflpierce pic.twitter.com/L1NkgMv8C7

— Deb Pierce (@DebPierce1204) September 11, 2014
You can sit back, relax, and laugh at your poor friends who still have to deal with the dreaded dorm move-in.
While many of my friends move kids to university this weekend I say been there, done that.Time to relax.#emptynesters pic.twitter.com/rhEyYV5hcU

— Bill Whalen (@whalen189) August 31, 2014
You can go on a pretty badass date night.
Date night ... Mall chair massages #emptynesters pic.twitter.com/mkmYpdopt5

— Tony Young (@tony_tyoung) August 22, 2014
You can take that expensive vacation you always wanted to take... at a fraction of the cost.
And everyone worried what we would do when the kids left! 😊#emptynesters @grandlakeliving pic.twitter.com/w3A9zykIm8

— Celia Ralston (@KmcWsuMom) June 29, 2014
And unashamedly flaunt it to your kids...
Shoutout to my empty nest parents taking trips to Florida without us @drucraft pic.twitter.com/6IuTMcXPRL

— Beau Craft (@beau31craft) September 14, 2014
You can spoil your pet.
My parents are stoked Chloe can go boating with them. This is what happens when the only child leaves #emptynesters pic.twitter.com/DjlHHir9BD

— Meagan McCarver (@meaganeliz93) May 18, 2014
You can revisit your childhood.
Please note that there are no kids living here. i.e. My mom built a snowman family. #emptynesters pic.twitter.com/Zwbqir0DiZ

— Gaby Patenaude (@GabyPatenaude) March 30, 2014
You can party like your college days. Oh, yes.
Partying with the NEISLERs! Clear off the tables! Time to dance on them!!!! #emptynesters pic.twitter.com/2zdtMjHuSI

— Jill Mundhenke (@mommamanhunk) September 7, 2013
Like literally throw a kegger...
y'all thought I was kidding about my parents buying a kegerator when I moved out...hahaha #ShinerOnTap #EmptyNesters pic.twitter.com/Dww8S2gjxO

— Emily Mitchell (@Emitch_) March 10, 2013
You can binge on all your favorite shows... now that the kids no longer control the TV.
Sitting in my den. Since I've been at college, my parents have bought and watched 2 seasons. #emptynesters #iapprove pic.twitter.com/eaXI2hk0BT

— Florence Prater (@flo_bot_) March 31, 2013
You can save tons of money on your grocery bill now that your kids, with their seemingly-bottomless stomachs, are gone.
Haven't bought a HALF gallon of these in 22 years. :( #emptynest pic.twitter.com/ejVFVFFd7F

— michelle gikas (@mamagikas) January 10, 2014
And do whatever the hell you want with your newly-spare bedroom.
And then there was none. . .#emptynest #diysuccess pic.twitter.com/8zfdQDY9x7

— Jim Grieco (@Cap11C) January 5, 2014
And revel in how sweet life really is.
Thanks for fitting me into the schedule pops haha #roughlife #emptynestlife #bossman pic.twitter.com/QYyB0ToPoQ

— Mitchell Beal (@Mitchbeal) August 6, 2014
BEFORE YOU GO
PHOTO GALLERY
Celebrity Empty Nesters