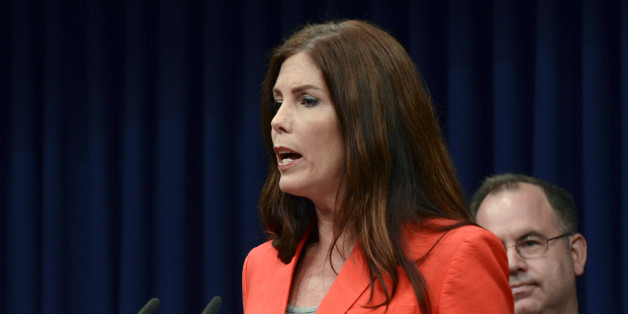 Pennsylvania Attorney General Kathleen Kane (D) is distancing herself from her office's response to a former state employee who was raped, saying she does not agree with the assertion that the woman herself is partly to blame for the atrocious crime.
A former state prison clerk filed a federal lawsuit against the state, saying she was brutally raped at work in July 2013 by an inmate with a history of sexual assault, among other crimes. The assault reportedly lasted 27 minutes, and for weeks, her eyes were still red from broken blood vessels.
The woman's lawsuit claimed the state allowed the inmate access to female employees, despite his violent past and the fact that he was transferred from another facility after attacking a female worker there.
According to the Centre Daily Times, Kane's office filed a response to the lawsuit that read, "Some or all of the damages plaintiff have alleged are in part, or substantially due, to the acts of third parties other than the answering defendants, and/or plaintiff acted in a manner which in whole or in part contributed to the events which led to the damages plaintiff has alleged in her complaint."
In other words, it was the victim's fault.
The document was in Kane's name. But her spokesman told the Centre Daily Times that Kane didn't actually write it.
"She didn't even know about this," said David Tyler, her spokesman.
In a statement to CNN, the attorney general's office added, "This initial filing should not necessarily be interpreted as meaning this defense will be pursued throughout the entire case. ... Attorney General Kane is disappointed that she was not made aware of this matter prior to the filing, and was saddened to learn that the filing implied that the victim somehow contributed to this crime."
Jennifer Storm, a victims rights expert, told CNN the Pennsylvania argument was unusual.
"It's not common legalese in rape cases," she said. "And it shows a significant lack of sensitivity to not understand the harm this has done to the young woman and the re-victimization she's going through today."
And Cliff Rieders, lawyer representing the victim, didn't buy Kane's attempt to clear herself of blame.
"My response is that we are all responsible for what our staffs do," he said. "When it goes out the door and it has your name on it, it's yours."
The Pennsylvania attorney general's office has faced a significant amount of criticism lately for allegedly having a hostile work environment for women. A woman who worked in the office under two of Kane's predecessors, including current Gov. Tom Corbett (R), said women were promoted less frequently than men, and executives would email around pornographic images.
BEFORE YOU GO
PHOTO GALLERY
U.S. Capitol Photos