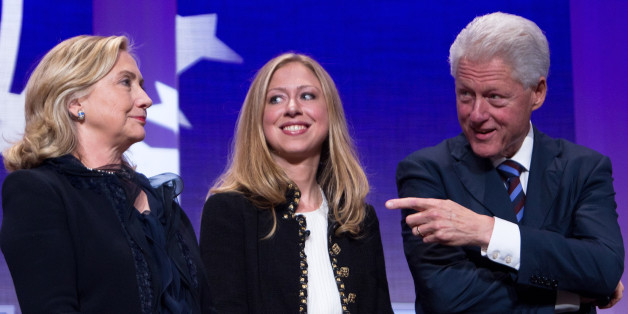 We asked our Post50 Facebook fans what advice they would give to President Bill Clinton and his wife, former Secretary of State Hillary Clinton, whose daughter Chelsea just delivered their first grandchild, Charlotte Clinton Mezvinsky. After all, even power couples might have a learning curve when it comes to baby-cooing, right?
Alison Abramson Kaufman suggested that "passing out cigars at the birth -- awkward. Skip it," she said.
Joseph Hartman told the Clintons to not "overstep the boundaries. Let the parents be the parents." Hartman added that he, too, "had to learn this."
Sharon Smith Seewalt offers this advice about how to treat grandkids: "Love and hug them as much as possible. I love my three grand-girls." Linda Jeanne Bosh-Watkins says not to sweat it because, "It comes naturally" and "no advice is the best advice."
For some practical advice, Jeanne Stier suggests "Always [carry] a burp rag to save your clothes." And Karen Lumpkin suggests that "Face Time is amazing" for staying in touch. She says, "Schedule a good time for everyone and enjoy seeing your little darling. Makes the rest of the week so much brighter."
Carol Turner offers another perspective: "Go on vacation as much as possible when asked to babysit," she said.
And of course since the Clintons are such lightning rods for criticism, we weren't surprised to hear a few jabs.
Natalye Mayher noted that we are "gonna have to watch him with the babysitters," a reference to his dalliance with White House Intern Monica Lewinsky in 1998. And Diana Rosenbaum, in a comment aimed at Hillary's possible plans to seek the presidency in 2016, hopes Clinton will "go home, sit down and try to be a good grandparent ... [and] retire, dammit!!" And a more direct barb came from Kathy A. Phelps Varney, who posted, "Don't run for president so you can take time to be with your grandchild."
Lorraine Sedor Rosen said, "Teach that child about truth and honesty.....if that's even possible for both of you!" Ouch. And from Carol Mohr Vaquera "Stop lying to everyone and set a good example." Double ouch.
BEFORE YOU GO
PHOTO GALLERY
10 Celebrity Grandparents We Admire