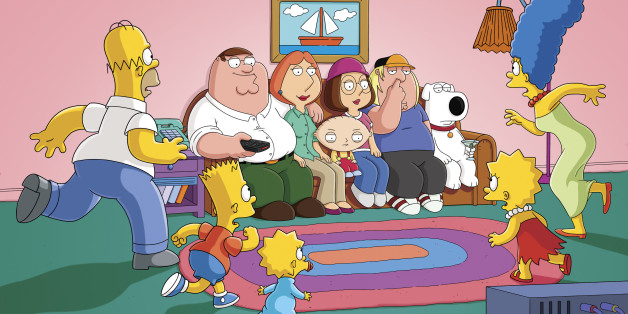 The much-anticipated cartoon crossover is almost here.
When "Family Guy" returns for its one-hour Season 13 premiere on Sunday night, the Griffins will finally meet the Simpsons. Fox announced the "Family Guy" /"Simpsons" crossover back in May, and teased it again with a five-minute preview at Comic Con this summer. In the episode, titled "The Simpsons Guy," the Griffins leave Quahog, Rhode Island and end up in Springfield, where they befriend Homer, Marge and co. "Family Guy" executive producer Steve Callaghan has described the episode to Entertainment Weekly as having much more of a "Family Guy" feel to it. He also hopes it puts to rest the rumors of a feud between the animated shows, and that it "gets people to end global warming." Based on the various promos Fox has released, here's what to expect from the crossover:
The Griffins get stuck in Springfield
How do they arrive in the Simpson's hometown? Peter's car gets stolen, and thus, they are stranded in Springfield.

Peter thinks the people of Springfield have hepatitis
What's with their yellow skin? Oh, it's just hepatitis -- don't drink the water! And they also visit the Kwik-E-Mart for donuts.

Bart introduces the Griffins to "Eat My Shorts"
When Bart gets kicked out of camp, he comes home to finally meet the Griffins and greet them with one of his catchphrases.

Brian will be forced to eat with Santa's Little Helper
Poor Brian, we feel your pain.

Peter and Homer will give you the car wash of your dreams
White T-shirts, cut-off shorts and lots of soapy suds -- okay wait, maybe this is the car wash of your nightmares.

They'll also apparently drink gasoline
Okay, this is weird ...

Bob Belcher makes a cameo too!
Bob from "Bob's Burgers" will make a quick appearance in the crossover episode, hanging out in a plane with Homer and Peter.

Season 13 of "Family Guy" returns on Sunday, Sept. 28 at 9 p.m. ET on FOX.
BEFORE YOU GO
PHOTO GALLERY
The Simpsons Season 24