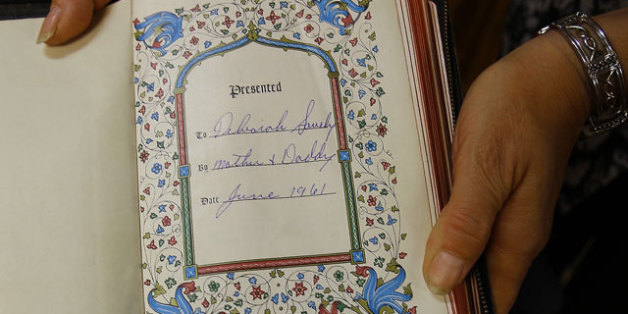 It's been decades since her father's death, but a Tennessee woman has finally found a way to be close to him again.
Thanks to the kindness of strangers, Deborah Savely was reunited with the Bible her father gave her back in 1961, when she was just seven years old.
The Bible had been lost for 40 years, the Tennessean reports.
"My daddy's infused in that Bible," she said. "Whenever I lay my hand on the page, I can feel that big old hand of his come over mine."
John Savely died of a sudden heart attack the year before his only daughter started college at Volunteer State Community College in Gallatin. Deborah, then 17 years old, packed the special Bible in her bookbag. She carried it with her everywhere and looking tenderly at the inscription her dad had written inside.
"Presented to Deborah Savely by Mother and Daddy," the man had scrawled in big cursive letters.
But some time in 1974, it slipped out of Deborah's bag. The woman searched for the Bible for decades, but was unable to find it.
"It was like a piece of my heart just broke off," Savely said. "A part of me was gone."
The mystery remained unsolved until a Vol State retiree decided to do some spring cleaning. Betty Gibson discovered the Bible while searching through a box of debris that had she had collected after a tornado swept through the university's campus in 2006.
It was the inscription that led Gibson to start searching for the book's owner.
"I have one just like it," Gibson said. "It just had to mean something to somebody."
Several Vol State employees joined in the search to find Deborah. The woman had moved several times and changed names, according to the Lebanon Democrat.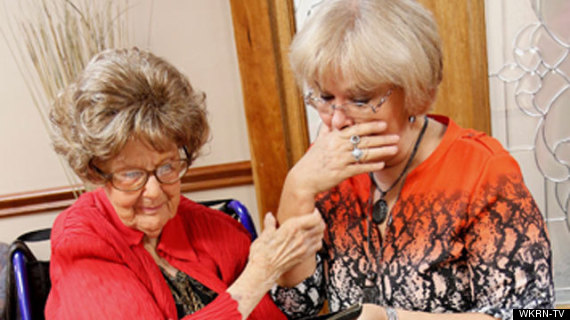 The staffers finally located in the offices of a financial services company in Lebanon, a few towns over from Vol State.
She was taken aback by the news.
"It was the last phone call in the world that I had expected to get," Savely said. "This is a dream that I don't want to wake up from."
Deborah and her 87-year-old mom then made the short trek over to Vol State to collect the Bible. The reunion was punctuated by tears and hugs.
"I feel complete," Savely told WKRN. "I've got my daddy back."
BEFORE YOU GO
PHOTO GALLERY
Religious Good News