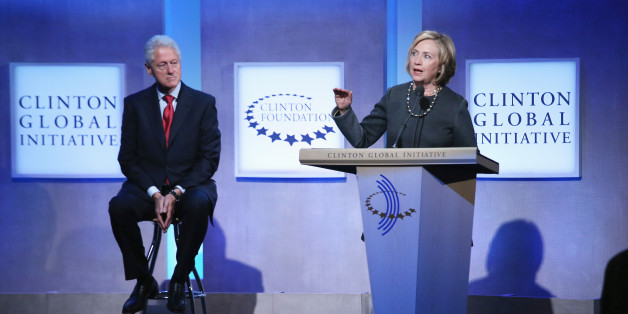 After wrapping up its 10th annual meeting on Wednesday, the Clinton Global Initiative (CGI) saw its commitments to helping the underserved across the globe climb to $103 billion.
World leaders, tireless activists and nonprofit executives descended upon New York City during U.N. Week to address some of the world's most pressing crises. At CGI, those advocates tackled a plethora of concerns, including ramping up Ebola aid and making HIV treatments more affordable.
But the three-day conference also paid a considerable amount attention to empowering women and girls.
"Giving women the ability to thrive and live the lives that they want for themselves and their children -- that's just the right thing to do in this day and age," Melinda Gates said on Wednesday during a panel focusing on equality for women and girls.
To date, members of the CGI community have made more than 2,900 "Commitments to Action," which directly affect more than 430 million worldwide.
Those commitments have proven to be much more than just lip service.
According to a report released by CGI, 82 percent of the pledges made between 2005 and 2013 have been completed or are still working toward fulfilling their initial goals.
One such ambitious commitment made this year aims to make HIV treatment less costly in an effort to end the epidemic by 2030.
Roche, a Swiss pharmaceutical company, pledged to drastically lower the costs of HIV viral load tests, which help prevent transmission by ensuring that patients are on the right drug regimens.
The company committed to a ceiling price of $9.40 per test in low- and middle-income countries, reducing the cost by more than 40 percent.
Girls' education also took center stage at CGI.
Together with 30 companies, civil society organizations, multilaterals and governments, former Secretary of State Hillary Clinton announced a $600 million effort to enhance schooling opportunities for underserved girls.
Collaborative for Harnessing Ambition and Resources for Girls' Education (CHARGE) hopes to reach 14 million girls over the next five years, improve learning opportunities and make schools safer in dangerous regions.
"We know when girls have access to quality education in both primary and secondary schools, cycles of poverty are broken, economies grow, glass ceilings crack and potential is unleashed," Clinton said.
Giving women the tools to launch their own businesses was deemed of equal importance as providing education.
Grameen America, which helps impoverished women launch businesses with microloans and training, committed to investing $50 million in more than 7,000 women-owned businesses in Harlem through 2020.
"Grameen America believes in women as the engines of local economies," President and CEO Andrea Jung said. "The solution to economic inequality is not charity; it is sustainable social business."
BEFORE YOU GO
PHOTO GALLERY
Hillary And Bill Through The Years