WASHINGTON -- A new advocacy campaign is borrowing from Beyonce to push Israeli Prime Minister Benjamin Netanyahu to support a two-state solution in the Israeli-Palestinian conflict.
J Street, an American advocacy group that promotes Middle East peace, has released a graphic depicting a cartoonish Netanyahu that reads, "If you like it then you should put a border on it." Netanyahu is shown in front of two women wearing leotards shaped like the country of Israel, with lines denoting the borders of a Palestinian state in the West Bank and Gaza.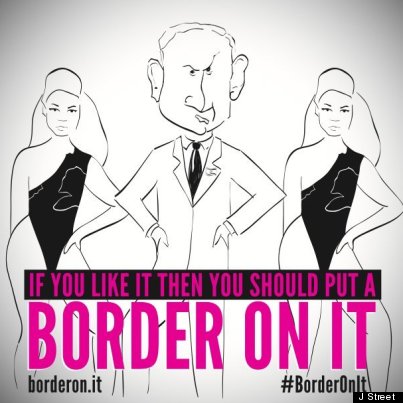 The campaign is a reference to the song "Single Ladies," in which Beyonce sings, "If you liked it then you should have put a ring on it." In the music video for the song, she and her dancers wear leotards similar to the ones shown in J Street's graphic.
The graphic, which the group is printing on stickers and circulating online, accompanies a petition asking Netanyahu to "show his commitment to peace by proposing clear borders for a final agreement."
"Defining Israel's borders would make the settlement issue -- one of the most contentious in this conflict -- moot," J Street explained in a statement. "It would give the Palestinians renewed hope in the diplomatic path and demonstrate to the world that peace is possible."'
The campaign, which gives a whole new meaning to the Beyonce songs "Partition" and "1+1," coincides with Netanyahu's annual address to the United Nations General Assembly in New York City on Monday.
J Street has consistently pushed American leaders, including President Barack Obama and Secretary of State John Kerry, to facilitate negotiations to resolve the Israeli-Palestinian conflict. The group supports a solution that would end Israel's presence in the occupied territories, as well as its construction of settlements in the West Bank.
"The sticker is definitely different from what we normally do, but coming after the collapse of the negotiations and the violence this summer, we wanted to get out the message that there are specific steps that can be taken toward peace," J Street Senior Digital Associate Ben Silverstein told The Huffington Post in an email.
"We are hoping that injecting a little humor will help to invigorate and broaden this important conversation," he added.
At the United Nations, however, Netanyahu didn't explicitly mention any sort of border framework, though he admitted that peace negotiations "would obviously necessitate a territorial compromise."
"I'm ready to make a historic compromise," Netanyahu said. "I want peace because I want to create a better future for my people, but it must be a genuine peace, one that is anchored in mutual recognition and rock-solid security arrangements on the ground."
These comments were far more conciliatory than Netanyahu's remarks at a July 11 press conference, where he stated his opposition to the creation of a sovereign Palestinian state in the West Bank and implied his support for a permanent occupation.
"There cannot be a situation, under any agreement, in which we relinquish security control of the territory west of the River Jordan," Netanyahu said at the time.
Members of Netanyahu's Likud Party oppose any peace agreement that would involve swapping territory and dividing Jerusalem, as do members of other, more right-leaning political parties in Israel.
U.S.-led negotiations between Israeli and Palestinian leaders earlier this year were stymied by the most recent Israeli offensive into Gaza, which ended Aug. 26. The 50-day war between Israel and Gaza militants killed more than 2,100 Palestinians, who were mostly civilians, and 72 Israelis, almost all of whom were soldiers.
On Friday, Palestinian President Mahmoud Abbas called upon the United Nations Security Council to support a resolution setting a deadline for Israel to end its presence in the West Bank and Gaza, which he described as a "racist and colonial" occupation.
"There is no meaning or value in negotiations for which the agreed objective is not ending the Israeli occupation and achieving the independence of the state of Palestine, with East Jerusalem as its capital, on the entire Palestinian territory occupied in the 1967 war," Abbas said. "And there is no value in negotiations which are not linked to a firm timetable for the implementation of this goal."
Obama is scheduled to meet with Netanyahu on Wednesday.
BEFORE YOU GO
PHOTO GALLERY
Israel-Gaza Conflict