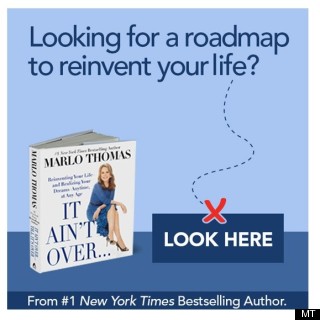 "One of the reasons I started my website is that I wanted a place for women to come together and dream. We women need to know that we don't have to hang on to an old dream that has stopped nurturing us—that there is always time to start a new dream. This week's story is about a crafty mom whose drawing led to a big idea -- and an Off-Broadway show!" —Marlo, MarloThomas.com

By Lori Weiss
When Emma Menzies asked her mom to draw a ballerina that looked just like her, she had no idea she was about to help build a family business. After all, she was just two and a half -- and she just wanted a pretty picture. Mom, Britt Menzies, decided to go the extra mile -- or a mile and a half to be exact -- and drove to a local craft store, to pick up a canvas.
"I always did art projects with my kids," Britt explained, "but typically, I'd pull out a piece of paper and draw a character for them. I'm not sure why I decided this particular ballerina required paint, but I knew I needed to put Emma in pink and that I'd surround her with flowers -- because she loved getting flowers."
"Yet after I finished, it seemed like something was missing. So I took out a black sharpie and outlined the character. Then I made her eyes really dark and created these little heart lips. Suddenly, the ballerina seemed to just step off the canvas and say, 'Here I am!' It was as if I had a magic pen!"
Britt had loved art from the time she was a young girl herself. She even considered becoming an art teacher when she grew up, but as the first in her father's family to get a college degree, it was expected that she would follow a more lucrative path. So she traded in her paint brushes for an accounting degree and took a corporate job with Coca-Cola.
Her career would take her around the world -- and with every new country she'd visit, she'd feel a little tug inside, as she watched street artists creating beautiful paintings. She'd collect their works like souvenirs -- often taking them off the easels before they were dry, and hoping they would survive the trip home to Atlanta.
For a long time, she saw art as something other people did -- until she took some time off to raise Emma and her son, Max, and began entertaining them with the kinds of colorful drawings Emma had asked for that morning.
"Emma loved her ballerina," Britt said with a smile, "and later that week, a friend of mine was over and she noticed it. I remember her saying, 'You could do this for other kids and turn it into a hobby business.' And I thought that might be fun. I'd be able to buy a cute pair of shoes now and then or help out with the groceries. So I painted a few more characters, and started showing them to the other moms, when we'd pick up the kids at school."
"I'd ask them for a picture of their child and find out a little bit about what they liked to do -- if they had a pet or any favorite sports. Then I'd turn their child into a character. You'd be amazed at what a parent is willing to pay, when you're painting something that resembles their child."
Article Continues Below Slideshow
PHOTO GALLERY
Stinky Kids
Britt began by painting two or three pieces a week, and as the orders began to build, she decided to see if she could pick up a few customers beyond the car pool line. She went to a local children's boutique and showed her artwork to the owner -- hoping that he might want to decorate his walls with her paintings -- and that the exposure would help bring in a little more business.
By the time she left the store -- Britt's cast of characters were on their way to stardom.
"When I showed the owner my paintings, he wanted to do more than put them on his walls. He wanted to buy the rights to them and begin a line of t-shirts. At first I thought, what a great opportunity, but by the time I got home, my business mind began to take over -- and I thought, wait, why don't I just try this myself?"
So that night, at their kitchen counter, Britt and her husband, Mark, began to think about what she might call her colorful friends. They looked around the room and the answer became obvious. Whenever Max or Emma did something mischievous, they'd call them little stinkers. Now they had a houseful of playful characters with colorful stories -- so they named them The StinkyKids.
"I immediately began to make a list of all the people I knew," Britt said, "thinking that there must be someone who could help me get to the next step. And as I did that, I realized that a friend of my brother's was in the screen printing business. So I called him and we put together a prototype of what a t-shirt would look like. I created 20 new characters, based on kids and adults in my life, and then I laid them out on the dining room table and asked everyone who came over to pick out their six favorites. The most popular ones got their own t-shirts."
Feeling confident that The StinkyKids collection would be as successful as her paintings, Britt moved forward and went into production. And then she went back to the car pool line and started selling them out of her trunk.
The crafty mom took them to art festivals, so she could get feedback from a bigger audience. She bartered with attorneys and web designers -- offering to supply their kids with endless paintings and t-shirts, if they'd help her prepare The StinkyKids for a bigger stage.
And Britt did what any proud mother would do -- she took those StinkyKids everywhere she went. She wore her t-shirts when she ran errands, on outings with the kids and on shopping trips to the mall. Then one day, when she was in the children's department at Nordstom, a salesperson stopped her.
"She said she liked the t-shirt I was wearing and when I began to tell her the story behind them, she stopped me and said, 'Let me grab my manager.' When the manager came over, he suggested that I contact their national buyer and promised to give him a heads up. Well, I'm not one that likes to-do lists, and by that point, I had a website up. So I went home and immediately sent him samples. Two weeks later, I had an order for every Nordstrom in the country."
The woman who had once wanted to become an art teacher, suddenly had her own artful clothing line. And there was a lesson she wanted to teach. Along with the t-shirts, Britt created trading cards to introduce each of her characters. On them, she explained that while all The StinkyKids were a little bit mischievous, they were also leaders of good -- a message she'd hope would cross the globe, in an effort to put an end to bullying.
And Nordstrom wanted to help. The store's buyers encouraged her to take the character's stories and expand them into books -- and to create a line of dolls that would bring them all to life.
"That was the moment when I realized I had more than t-shirts and characters," Britt remembered, "That's when I realized I had a brand. So I went back to my list and called someone I knew at the Turner Cartoon Network, to ask what I needed to do to have a line of dolls produced. And I started writing stories."
It wasn't long before The StinkyKids collection was not only being sold at Nordstrom, but at FAO Schwartz. "I have a motto, 'Never Assume No'. I start with the operator and go from there. If you don't believe in what you're selling, you're not going to succeed. I not only got to a buyer, but within a week, she bought every doll I had left."
But Britt's priority was still her real life little stinkers -- Max and Emma. She reached a point, where she knew that if she wanted to keep growing The StinkyKids brand, she was going to need some help. So she licensed the rights to her doll collection to Madame Alexander Dolls, allowing them to take over the manufacturing and selling, while she collected royalties -- and moved on to the next step.
"I wanted The StinkyKids to become the next Peanuts gang and I saw that Madame Alexander had two other brands with their own musicals, Angelina the Ballerina and Pinkalicious. They had both opened at The Vital Theatre on Manhattan's Upper Westside. So I picked up the phone again."
In March of 2012, six years from the time Britt painted that first picture, The StinkyKids danced their way onto a New York stage. Not long after, they were named Best Family Show of 2012 by the Off-Broadway Alliance Group.
Today, Emma, the little girl who wanted to see herself as a ballerina is 11, and a star on the basketball court. Max is 15, learning to drive and reminding his Mom that not everything in life is a StinkyKids cartoon. And Britt's StinkyKids -- well, they're under consideration for their own animated series.
"I never imagined that I could take a painting and turn it into an Off-Broadway show," Britt said softly. "I was just happy that other people liked my art and that I had a little extra income. It's amazing what can happen when you build something out of passion."
* * *
To read 60 other inspiring stories -- buy your copy of "It Ain't Over Till It's Over." Click here.
Add Marlo On Facebook:
Follow Marlo on Twitter:
Sign up to receive my email newsletter each week - It will keep you up-to-date on upcoming articles, Mondays with Marlo guests, videos, and more!