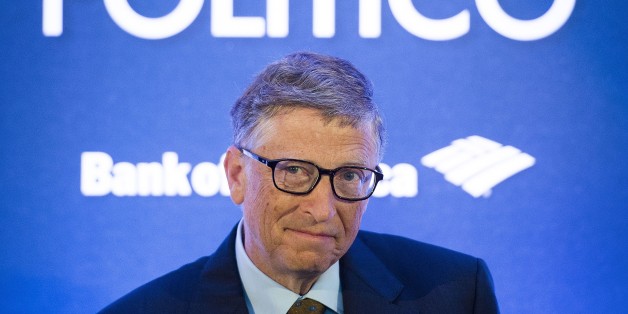 Not everyone is happy with America's response to the Ebola outbreak, but Bill Gates isn't one of those people.
While The New York Times called America's reaction to aiding West Africa "belated" and members of Congress questioned the effectiveness of U.S. aid, the philanthropist praised American leadership amid the crisis, predicting sweeping changes to combat the virus would be in place within the next month.
"Was there some other government who took decisive action before we did? Was the data really clear?" Gates asked Monday during a panel discussion, according to CNN. "Is there someone else whose research is going to give us the vaccine that will be the key to making sure this outbreak doesn't happen again? The U.S. is the leader on being able to move into areas like this and help out."
Gates' comments came at Politico's "Lessons From Leaders" event, which included mention of the Bill & Melinda Gates Foundation's $50 million donation toward fighting the virus -- the largest gift ever from the organization.
Gates was also confident that officials would get the outbreak under control, calling recent joined efforts between international bodies "quite impressive." According to Politico, Gates predicted the needed health infrastructure to allow a turnaround in the fight would be in place within "the next 30 days."
President Obama has been at the forefront of international initiatives attempting to contain the virus. In a United Nations meeting last Thursday, the president urged other leaders to donate more medical resources and send doctors to affected areas, The New York Times reported, noting the construction of U.S.-backed medical facilities in affected regions were needed improvements in a dire situation.
"We will not stop, we will not relent until we halt this epidemic, once and for all," the president said, according to The New York Times. "But I hope I'm properly communicating the sense of urgency here. Do not stand by thinking that somehow because of what we've done, it's taken care of. It's not."
According to the latest update from the World Health Organization (WHO), 6,574 cases of the deadly virus have been reported in the five West African nations hit by the epidemic -- Guinea, Liberia, Nigeria, Senegal, and Sierra Leone. On Tuesday afternoon, the Centers for Disease Control and Prevention confirmed the first case of Ebola in the United States.
Support UNICEF's efforts to combat Ebola through the fundraising widget below.
BEFORE YOU GO
PHOTO GALLERY
Bill Gates' Florida House