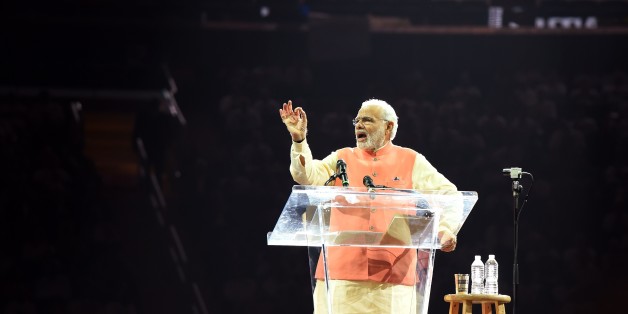 The Economist is facing harsh criticism this week over its depiction of Indian-Americans in a Monday piece.
The story, which detailed Indian prime minister Narendra Modi's appearance at New York's Madison Square Garden Sunday night, opened with a tasteless characterization of the crowd:
Inside are over 18,000 Indian-Americans, as prosperous and upstanding a diaspora as you will find from the Redwood forests to the Gulf Stream waters. They are willing themselves into the kind of obedient hysteria they were meant to have left behind generations ago in the badlands of Asia, along with hunger and snakes. "Modi, Modi, Modi," shout the massed oncologists, engineers and entrepreneurs, wearing T-Shirts bearing his face and the slogan "Unity, Action, Progress". An Americanised Bollywood dance troupe wearing fluorescent military uniforms gyrates to Bruce Springsteen's anthem "Born in the USA". The cries reach a lustier pitch. "Modi, Modi, Modi!"
Shocked readers responded with outrage:
Good lord, @TheEconomist. pic.twitter.com/qEUTYw0NUN

— Andrea Shang (@andreaTshang) September 30, 2014
"I Give You Narendra Modi": reporting from #MSG, racist, third-rate journalism from The Economist http://t.co/yu7xNlEgrS

— Minhaz Merchant (@minhazmerchant) September 29, 2014
The Economist. Wow. Sarcastic, racist and cynical drivel. http://t.co/QRvm3Kr83F

— Tejas Prithvi (@tejasprithvi) September 30, 2014
Gosh, The Economist's article on Modi by @PatrickFoulis is openly racist, anti - Indian and incredibly biased. Cancelling my subscription!

— Ramaa Ramesh (@ramaaramesh) September 30, 2014
I think we might see another @theeconomist article pulled due to its tasteless characterization of Indian-Americans. http://t.co/C8Pkr0U46x

— Tom Murphy (@viewfromthecave) September 29, 2014
Swarajya magazine responded to the article with its own analysis on Tuesday, picking apart each paragraph that it says is obviously "offensive, racist, and still unable to come to terms with the loss of Empire."
Ironically, the Economist apologized for the article – or, rather, for a different part of it, attaching this note:
Editor's note: The second sentence of this blog post was changed on September 29th to make clear that The Economist does not consider Mr Modi to be a "pain in the ass"; that epithet is merely how we imagined an uninformed New Yorker might feel about someone who causes a traffic jam.