How do you take a laser cat yearbook photo to the next level? Add a chihuahua and a principal, and do it all to spread awareness about animal adoption.
Draven Rodriguez, a senior at upstate New York's Schenectady High School, made headlines earlier this month when he launched an online campaign to get his school's approval of his cat-and-laser portrait for the 2015 yearbook. The photo featured Rodriguez posing in a suit while holding his cat, Mr. Bigglesworth, with pink and blue beams shooting across the image.
At the time, school district spokeswoman Karen Corona told Schenectady's Daily Gazette the photo could appear somewhere in the yearbook but would not appear alongside the professional senior portraits.
Now, Rodriguez's cat-and-laser theme is getting even more prominent placement thanks to the addition of Principal Diane Wilkinson and her dog, Vivienne.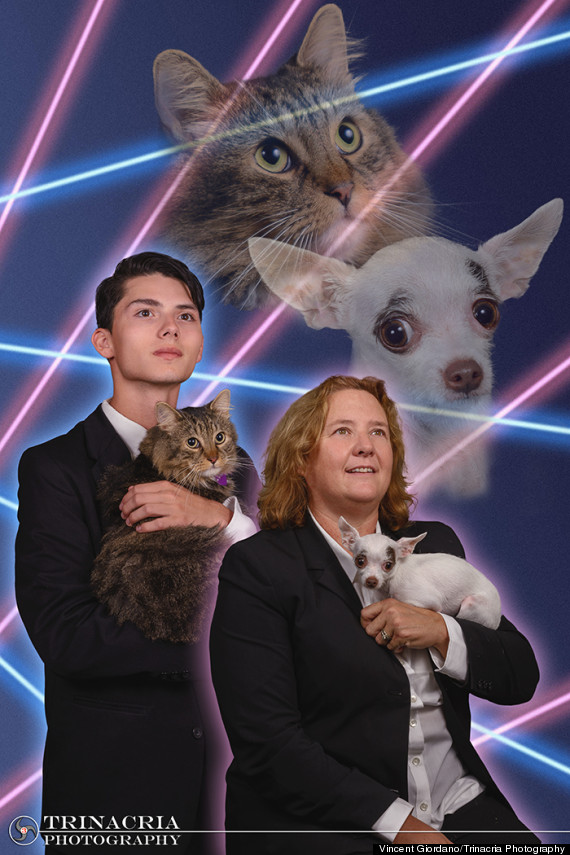 Rodriguez and Wilkinson posed for a new portrait, taken by photographer Vincent Giordano from Trinacria Photography, that will be featured on the principal's page in the annual yearbook along with a message about animal rescue, according to the Albany Times Union. The image shows Rodriguez and Mr. Bigglesworth -- who is a rescue cat -- standing next to Wilkinson and Vivienne. There are laser beams, too, of course.
The joint photo was Wilkinson's idea.
"I generally have a boring head shot and, like Draven, I loved his original photo," she told the Times Union.
The shoot was a success.
"Mr. Bigglesworth the cat and Vivian the dog were very calm and poised. True pros all the way, the camera loved them!" Giordano told Today.com. "Principal Wilkinson was the best, she is such a wonderful person. She and Draven were so happy to be able to come together with us to bring attention to rescue animals with this portrait session."
Giordano is offering laser cat portraits to all customers, starting at $225.