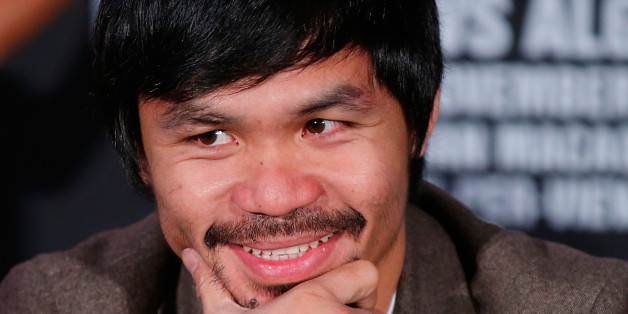 The latest batch of trash-talk between Floyd Mayweather Jr. and Manny Pacquiao centers not on boxing, but the Bible. In an interview on Monday in the Philippines, Pacquiao said he was unfazed by Mayweather Jr.'s most recent shots.
"I still feel sorry for him because he acts like an uneducated person. It's pitiful to me and I'm praying for him. He should fear God," Pacquiao said, according to the Agence France-Presse. The 35-year-old also quoted a verse from the New Testament: "For what is a man profited if he shall gain the whole world and lose his own soul?"
Pacquiao's outside-the-ring jabs took place last week when he criticized Mayweather on Twitter for claiming that the events on his show called "All Access" were staged. Never to be outdone, Mayweather Jr. countered.
....Miss Pac Man is broke and desperate for a pay day. Your Pay-Per-View numbers are a joke. 😂😂😂😂 pic.twitter.com/qmhOBvibG5

— Floyd Mayweather (@FloydMayweather) September 26, 2014