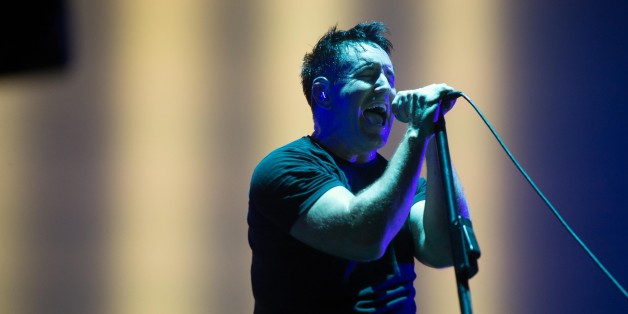 David Fincher's bruising, darkly comic "Gone Girl" gets so much of its punch from Trent Reznor and Atticus Ross. The composers crafted a musical accompaniment for Fincher's latest film that the director himself has compared to spa music. "I was listening to that calming, placating music and thought, 'We need to tap into this,'" Fincher told The Wall Street Journal. "The movie is about the facade of the good neighbor, the good Christian, the good wife."
The result is a score of ambient strings, muted horns and electronic whizzes and purrs. It's both unsettling and comforting, a warped creation that stands as one of the best scores of 2014. It's also just a good record.
"With music for film, I'm consciously trying to remind myself that it's not about my ego, it's about how the piece of music works with this picture," Reznor told HuffPost Entertainment. "But when we finish, because of the way we compose -- where we start with chunks of music and extract from that what goes in the picture -- we spend as much time as we can trying to make it an album that would become a primary listening experience. With this, it's too early for me to tell. I think we achieved it, but I was the most worried about it because the score is starting from a place where I didn't know if you'd get it out of context. We are aiming for it to be a great album on its own."
Based on Gillian Flynn's runaway best-seller, and written for the screen by the author herself, "Gone Girl" is about Nick and Amy Dunne (Ben Affleck and Rosamund Pike), a married couple in constant battle for relationship superiority until Amy goes missing on their fifth wedding anniversary. The film cuts between idyllic flashbacks of the couple's salad days, provided by Amy's diary entries, and of the waking nightmare that is Nick's present. Like the movie, Reznor and Ross' "Gone Girl" score is filled with misdirection: it's playing one thing but revealing quite another.
"One of the mechanisms we had to deal with on this, was with her diary entries. When she's telling her alternate version, maybe, of what happened," Reznor said. "We had to frame it in a way that has this 'everything's perfect' feel. It should feel incongruous with that she's missing and possibly dead."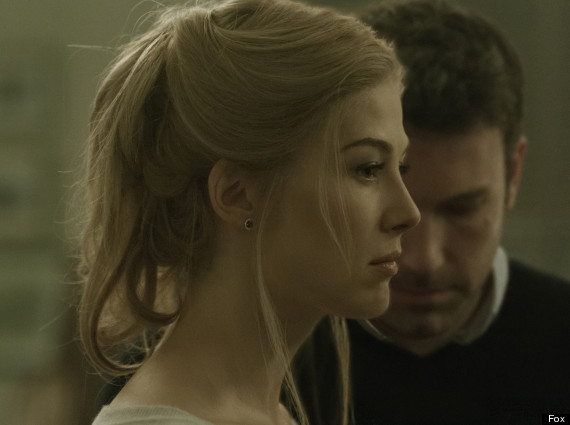 Reznor's career as a composer is relatively new. His first feature score was for 2010's "The Social Network." It won an Oscar. "The Girl With the Dragon Tattoo" and "Gone Girl" have since followed. All three works were commissioned by Fincher.
"I can feel intimidated in situations I don't feel confident in," Reznor remembered of his initial meetings with Fincher for "The Social Network." "What I was afraid of with 'The Social Network' was, am I interested in scoring for film? Yes. Do I want to fuck up a fairly high profile thing from a director I really admire? Not really. But everything feels better now. I really enjoy working with him. He pushes me into places I wouldn't normally go."
That relationship dynamic started right away. After Fincher hired them, Reznor and Ross were shown a rough cut of "The Social Network" that ran for about 45 minutes. It gave Reznor an idea of the film's rapid-fire dialogue and worldview. It also scared him.
"We left that meeting and I was panicked," Reznor said of the film, which detailed the rise of Facebook co-founder Mark Zuckerberg. "I didn't even know what would fit around that: It's assholes in a room bickering about shit."
Reznor said he and Ross had a little bit of time to work with on "The Social Network" and they took advantage of that by approaching the job as if it were music for Nine Inch Nails.
"Let me just think not about a scene, but what would belong in that world, emotionally," Reznor said of the process. "In the case of 'The Social Network,' it was about ambition and about someone trying to make their mark and feel like they have purpose. But the price of that was realizing that you fucked a lot of people over and it doesn't taste that good at the end. But you did it. I could relate to some of that. So we just blindly created chucks of music. Five-minute sections. We sent about an hour or a little bit more over to David. We said, think about it as swatches -- like set design. Does it feel like it's in the realm sonically or arrangement wise. Is it the flavor that seems like it belongs in your film?"
As it turned out, the tracks Reznor and Ross sent Fincher for that film were more valuable than mere swatches.
"He cut a rough cut with the stuff we gave him. A couple of weeks later I was sitting in a screening with Brad Pitt right in front of me watching this film with music placed in places that I had never heard where it went," Reznor said. "That taught me an awful lot about how much we can influence scenes. We actually went in and properly rearranged. We have kept the same approach on the other two films."
After the success of "The Social Network," Reznor said his phone started ringing with other offers. Thus far, however, he's only worked on films directed by Fincher. It seems that Reznor wants to keep it that way.
"I've come to realize the situation with David is exceptional in a number of ways that hadn't been obvious," Reznor said. "David is trying to make movies with zero compromise. His agenda is to make the best film he can possibly make. He will mow down whatever obstacle or studio person is in the way of that happening. He carves out a place where you, as a filmmaker, are not intruded upon by external forces. He weathers that storm. He goes at it with an integrity that is impressive and inspiring. You feel like you need to run to keep up. That's an interesting place to be. It's foreign to me. Not being the boss and being in a place where I'm not entirely sure what I'm doing and everyone else is excellent.
"I don't think that's the case with most of what comes out in Hollywood," Reznor continued. "Music is just ticking a box. It does that thing where it sounds like all the other scores. That doesn't sound as appealing to me. An interesting project comes along, I'd like to make time for it. To fill the schedule with quantity ... ask me in a few years. Right now, I've had such an extraordinary time with David that I'm going to try to keep [composing for film] as a complement to what I do and not as the main thing."
"Gone Girl" is out on Oct. 3. Stream the film's score on Spotify right now or purchase it over at iTunes.
BEFORE YOU GO
PHOTO GALLERY
"Gone Girl" Premiere