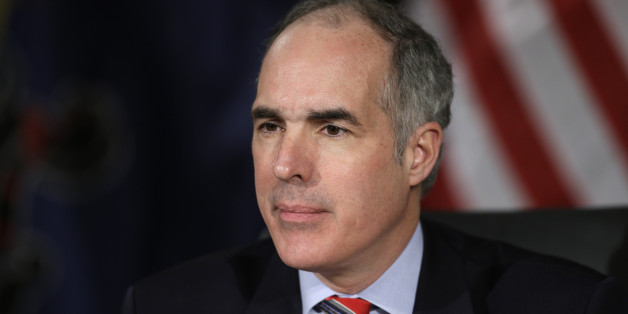 WASHINGTON -- Joining a growing international chorus, Sen. Bob Casey (D-Pa.) on Thursday asked soccer's international governing body to release the findings of its secret investigation into corruption allegations surrounding the 2018 and 2022 World Cup bids.
In a letter sent to FIFA President Joseph S. Blatter on Thursday, Casey said it was "troubling" that the organization won't make public the report assembled by former U.S. Attorney Michael Garcia. So far, FIFA has refused to release the so-called Garcia Report, which probed allegations of graft in the bids that were ultimately won by Russia and Qatar.
"Mr. Garcia has called for this report to be made public as have numerous FIFA representatives," Casey wrote. "Full transparency is required given the investigative reporting and widespread allegations of improper payments."
The awarding of the 2022 World Cup to Qatar was shocking for a number of reasons: the brutal heat that players are expected to endure, the lack of infrastructure in place and the well-known labor abuses in the oil-rich country. With Qatar now prepping for the tournament, news reports have documented not only the oppressive working conditions of the country's migrant workers but also allegations that FIFA officials accepted bribes.
The Sunday Times in the U.K. reported that Mohamed bin Hammam, a Qatari official and former member of FIFA's executive committee, may have paid $5 million to FIFA officials to help bring the cup to Qatar.
Citing a need for witness confidentiality, Blatter has dismissed prominent soccer figures who've demanded that FIFA disclose Garcia's findings. On Thursday, Michel Platini, the president of the Union of European Football Associations, also called on Blatter to make the report public. A German judge could compel FIFA to release it in November.
Thursday's letter wasn't Casey's first missive to Blatter. Back in June, the senator told FIFA that Qatar should be stripped of its hosting honors due to both labor abuses and corruption allegations. "It is clear that allowing the World Cup and the infrastructure projects leading up to it to take place in Qatar is no longer acceptable," Casey wrote.
Casey recommended the 2022 World Cup instead go to the second-place bidder, the United States.
BEFORE YOU GO
PHOTO GALLERY
U.S. Capitol Photos