It's that time of year again. The annual "Take Home a Nude" auction, organized by the New York Academy of Arts, is just around the corner, giving collectors a chance to bid on semi-affordable artworks by famous and emerging artists. And yes, the not so subtle theme revolves around nudity -- paintings of nudes, drawings of nudes, nude photography and nude sculptures. From Vito Acconci to Laurie Simmons, Ryan McGuiness to Alex Kanevsky, there's a little (nude) something for everyone.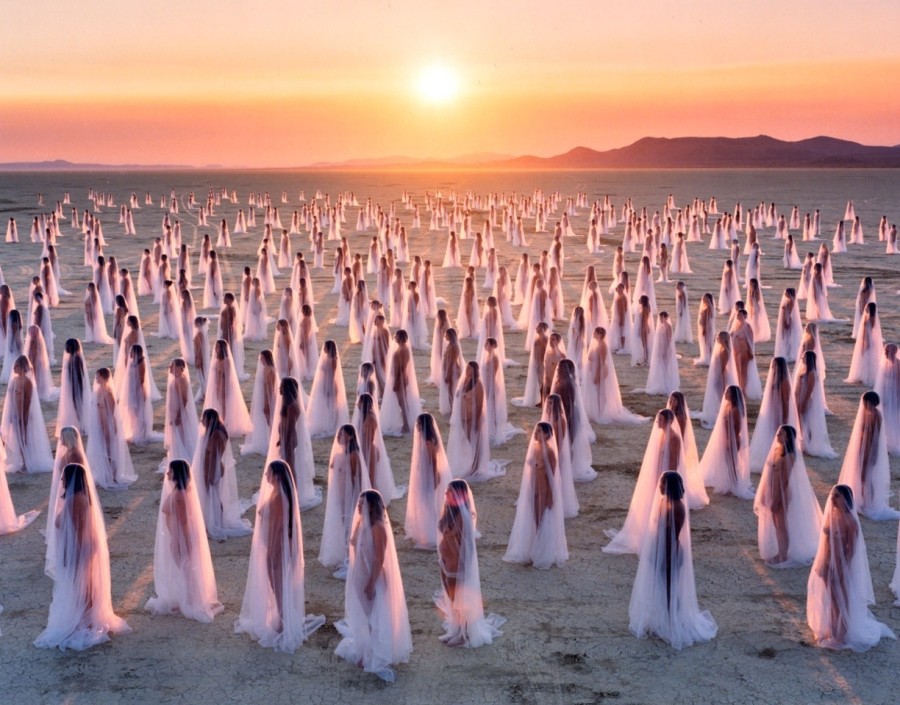 Spencer Tunick, Desert Spirits 1.1 2013, 2013, Chromogenic print, 30 x 37.5 in (76.2 x 95.25 cm)
The ritzy, event-filled night -- consisting of cocktails, a silent auction, a live auction, and dinner -- will take place at Sotheby's in New York City on October 9. All proceeds from the silent auction, hosted over at Paddle 8, will go to the New York Academy of Arts' scholarship and public program funding. You can take a peek at the silent auction goods now -- bidding officially opened on October 1 and will run until the day before the live auction.
There are 150 lots in total, including a nude -- of course -- drawing of this year's "Honorary Muse" Brooke Shields. While Shields' title is a bit cringe-worthy, eager audiences are probably in for a fluffy, pastel-colored treat. American painter and NYAA alumnus Will Cotton organized the drawing session, which included 24 different artists. Whether the fruits of their labor will at all resemble Cotton's Katy Perry-inspired cupcake universe, only time will tell.
We've got a preview of the auction below. If you feel compelled by any or all of these nudes, and the occasional dancing heron (he's technically nude?), head over to Paddle8.
PHOTO GALLERY
Take Home a Nude
BEFORE YOU GO
PHOTO GALLERY
Art History's Most Erotic Artworks