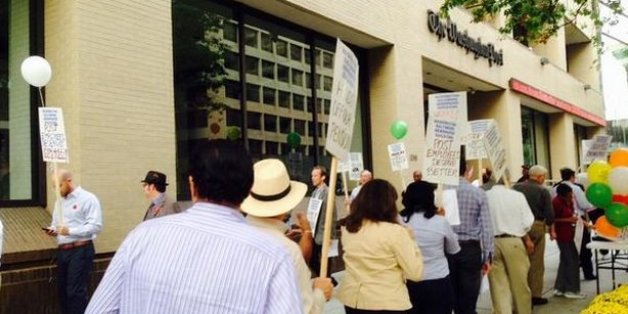 Dozens of Washington Post staffers took to the streets on Thursday to protest Jeff Bezos's plan to cut employee retirement benefits.
These Posties are not happy with Bezos's approach to their pensions. pic.twitter.com/ygqhnzDhOM

— Benjamin Freed (@brfreed) October 2, 2014
Labor strife at 15th and L. pic.twitter.com/6Q3zCasZJA

— Benjamin Freed (@brfreed) October 2, 2014
Bezos, who bought the Post in 2013, announced in September that he would be slicing medical and pension plans for union and nonunion employees and instead creating a new cash balance system.
But Post employees are fighting back, refusing to be part of a transition that has hit major corporations in recent years.
"This is what Walmart has done," staff writer Fredrick Kunkle told the Washingtonian Thursday. "We're saying no, the Post should not be like that."
The protest consisted mostly of "mid- and late-career employees from the editorial, circulation, and advertising departments," the Washingtonian said. One Post employee, columnist John Kelly, was reportedly yelling out lines like, "Post employees, unite and fight! Make Jeff Bezos do what's right!"
Other staffers raised signs demanding fairness and equality. "Fair Contract Now!" one sign read, along with "Equal Loyalty Equals Post Takeback" and "Shame on Bezo$."
(h/t: Politico)