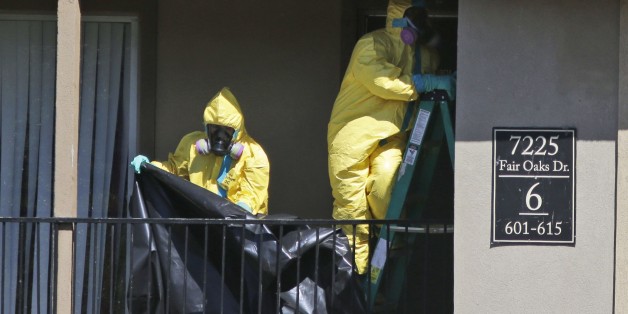 By Jon Herskovitz
DALLAS, Oct 3 (Reuters) - A private contractor arrived at a Dallas apartment on Friday to decontaminate the residence where a Liberian man suffering from Ebola had stayed.
A crew from the Cleaning Guys, a hazardous materials cleanup company, arrived about 11:30 a.m. CDT (1630 GMT) to start the work that Dallas County officials said would take about three hours.
Four residents of the apartment have been quarantined there this week after exposure to the patient, Thomas Eric Duncan. County officials said it was safe for the residents to stay in the apartment during the cleaning.
Along with the cleanup crew, three fire and rescue vehicles also arrived at the apartment about midday on Friday, including an ambulance and a fire truck.
A Dallas County official said the cleaners will place materials in secured containers and take them to a secure location.
Duncan, who is the first Ebola case diagnosed in the United States, is being treated at Texas Health Presbyterian Hospital. (Additional reporting by Julie Steenhuysen in Chicago; Writing by Bill Trott; Editing by Susan Heavey)