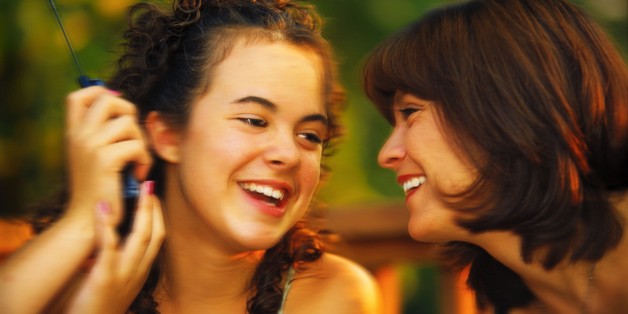 Many people are under the impression that teenagers -- buried face down in their smartphones -- are tough to handle. But that's not necessarily the case. There are at least a few reasons why it's actually easier to raise teens today than ever before. Here are just six of them.
1. Underage drinking appears to be on the decline.
Although underage drinking no doubt remains a persistent problem, there are some encouraging signs that it's not as bad as it used to be. For example, the 2012 National Survey on Drug Use and Health found that the rate of current alcohol use among 12- to 20-year-olds actually dropped from 28.8 percent in 2002 to 24.3 percent in 2012. The binge drinking rate fell from 19.3 percent to 15.3 percent, and the rate of heavy drinking dropped from 6.2 percent to 4.3 percent.
Anecdotally, this Huff/Post50 senior editor wrote only last year about how her three teens look askance whenever she and her friends open a bottle of wine -- rather than it being the other way around.
2. Malls are making parenting easier -- at least for some.
Suburban kids today congregate at shopping malls -- well-lit, well-policed malls where they're surrounded by a zillion shoppers who will stare disdainfully at any untoward behavior or dress. It's the old "it takes a village" idea but better. Instead of parking the old '64 Rambler Tarpon down by the manmade lake and steaming up the windows, our teenagers now gather under the watchful eye of security cameras installed every five feet.
And teens still go to the mall -- a lot. In fact, teens make 26 percent more trips to the mall than other shoppers -- totaling 47 visits a year.
3. Teens don't seem to care about driving as much as they used to.
When we were teens, we couldn't wait to turn 16 and get that driver's license -- our birthright and our ticket to freedom and independence. But today people are driving less and it's a trend that's fueled by young people. According to one recent study, one in three teenagers is "just not interested" in driving. About two decades ago, more than two-thirds of teens got their driver's license before the age of 18 whereas today only about 44 percent of teens have their licenses within their first year of eligibility, according to the AAA Foundation for Traffic Safety. Why so little interest? The study found that many teens either didn't have access to a car or could simply get around with one. Whatever the reason, the result is a lot fewer parents waiting up at night for the sound of their teenager's car pulling into the driveway.
4. Overscheduling kids actually has an upside.
Teens today are used to being overscheduled. We've been doing that to them since preschool, despite the many cautions that we will burn them out, over-stress them, stymie their creative growth and everything else. It was all just white noise, right? We overscheduled them and now they are used to it and do it to themselves without our fine hand of intervention.
And guess what? They are just too busy to get into trouble. The typical teenager today has a stack of homework, daily sports practices, SAT tests to prep for, community service hours to rack up and barely time to send an average of 60 texts a day. When do they actually have time to get into trouble? Precisely. Case closed.
5. Technology gives us the ability -- if we want it -- to track our teenager's location.
You can scream about "big brother" all you want. But when it's late and your young teenage daughter isn't answering texts or picking up her cell phone, it's mighty handy to be able to log onto the computer and see that, yes, she's just up at the street at the pizza place, probably losing track of time. Today you can go to every major tech company for a tool to track your kid's location. You can also keep them from texting while driving and limit the amount of time they spend on their phone. No, we don't believe in peeking into every single aspect of a kid's digital existence. But it is a massive relief to know your kid is where they're supposed to be when they've failed to contact you.
6. Relationships between teens and their parents often are closer today.
Sure we were called "helicopter parents" and told that we should occasionally let our kids taste failure -- even just a small bite. But the end result is that our kids today are closer to us than we were to our own parents. Parents are seen as trusted confidantes and advisors today, not the police state from which college is the escape. Sixty-percent of college-age Millennials say they speak with their parents at least once a day, according to the 2012 Millennial Values Study, Berkley Center for Religion, Peace and World Affairs at Georgetown University. Even some employers have acknowledged the relationship and now invite parents into the hiring negotiations for jobs being offered to their offspring.
A 2012 Adecco study of post-college job applicants found that 8 percent brought their parents along on job interviews and 3 percent asked to have at least one parent sit in on the interview. Now does that sound like they hate us?
So what do you think about raising teens today? Easier or harder than it used to be? Let us know your thoughts in comments.
BEFORE YOU GO
PHOTO GALLERY
Post 50 Celebrity Moms