Emojis make the world a better place. Or at minimum, they make texting a little more fun. But there's one problem with emojis that we never talk about: It's really hard to quickly find the one you want! You know what we mean.
Ugh, where is the beer emoji again?
Thankfully, a hero has come to save us from frustration. Independent iOS and Mac developer David Smith has just released an app, Emoji++, that vastly improves the layout and navigation of the emoji keyboard by organizing emojis in one scrollable window. And because iOS 8 finally allows people to download third-party keyboards, you iPhone users can get Smith's app rather easily.
We will find you, beer emoji!
The Emoji++ keyboard is much larger than the standard version, which makes the icons easier to see and select. There are also two navigation bars, one on either side of the keyboard.
The left bar includes your "recent emojis" list, same as with the existing keyboard -- but Smith also has added a favorites list (you simply hold down on any emoji to add it to your favorites). There's no way to edit this list, but Smith told The Huffington Post that he has already submitted an update to Apple that will allow users to better organize the favorites section.
The right bar allows you to quickly jump between 10 categories that actually make sense, including clothing, gestures, animals, food and transportation. It's a lot more intuitive than the existing system of six categories, which are organized in who knows what way.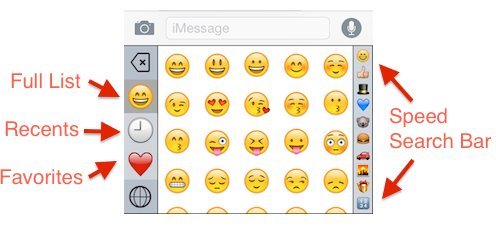 We're trying to make this as easy as possible for you to understand.
The app costs $0.99 and installation is simple. It takes a little bit of getting used to. But the keyboard is much easier to work with, and the default emoji board will still be there. You just need to tap on the globe twice to get to Emoji++.