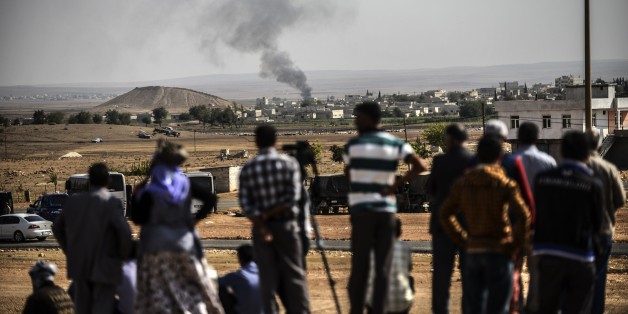 By Ayla Jean Yackley and Sylvia Westall
MURSITPINAR/BEIRUT, Oct 4 (Reuters) - Islamic State forces shelled the Syrian border town of Kobani on Saturday and its Kurdish defenders said they were expecting a new assault to try to capture it.
U.S.-led coalition warplanes had struck at Islamic State targets overnight to halt the insurgents' advance and Saturday's barrages were less intense than the previous day.
"Clashes continue now, they are shelling on all three fronts. They tried to invade Kobani last night but they were repelled," senior Kurdish official Asya Abdullah told Reuters from the town on Saturday.
"We think they are planning to launch another big attack but YPG is prepared to resist them.," she said, refering to the Kurdish armed group defending it.
Previous coalition air strikes have failed to stop the insurgent offensive and an estimated 180,000 people have fled across the border into Turkey to escape the fighting around Kobani - a conflict now overshadowing Syria's wider civil war.
Islamic State said they would take the town within days and boasted they would pray in its mosques for the Muslim religious festival of Eid al-Adha, which began on Saturday.
In Istanbul, Turkish President Tayyip Erdogan reacted angrily to comments by U.S. Vice President Joe Biden suggesting that Turkey had supported groups in Syria linked to al Qaeda.
Turkey has up to now been a reluctant partner in the U.S.-led coalition of Western and regional allaies and the new dispute could complicate international efforts to present a united front against Islamic State.
The insurgents stepped up their offensive close to the Turkish border last month, seizing surrounding villages and advancing to within a few kilometers (miles) of Kobani, which is also known as Ayn al-Arab. Its capture would allow Islamic State to consolidate its hold on swathes of territory in Syria and Iraq.
Swift offensives by Islamic State since June have sent shockwaves through the region and prompted the United States and its allies to carry out a series of bombing raids to halt the insurgents' rapid advance.
Rami Abdelrahman, who runs the Britain-based Syrian Observatory for Human Rights, said several hundred people had been killed on both sides since the assault on Kobani started two weeks ago.
The rumble of artillery could be heard on both the eastern and western flanks of the town on Saturday but the barrage was less intense than on the previous day, a Reuters witness said.
Coalition warplanes destroyed one insurgent vehicle and killed five fighters during raids in the countryside to the east and south of Kobani on Friday night, the observatory said. Ten Kurdish fighters were also killed in heavy fighting that carried on long into the night.
BEFORE YOU GO
PHOTO GALLERY
Syria War In September