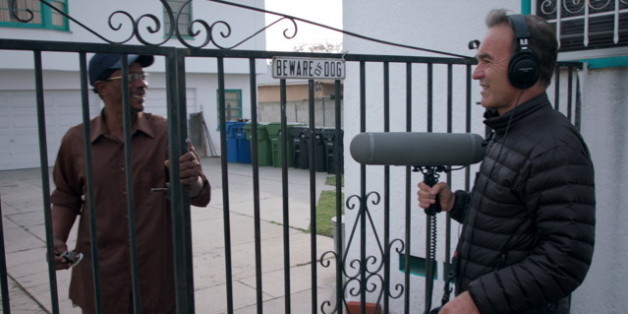 There's only one way to look at "Tale of the Grim Sleeper," and that's grimly. The new documentary, which is screening as part of this year's New York Film Festival, tells the harrowing story of a section of South Central Los Angeles haunted by the disappearance of dozens of black women (many of them drug-addled prostitutes) since 1985. Lonnie Franklin Jr., labeled the "Grim Sleeper" because he appeared to take a 14-year hiatus before killing again, was convicted of 10 murders corresponding to those crimes, and most of the residents interviewed in Nick Broomfield's documentary believe he's responsible for the others.
When Broomfield ("Aileen: Life and Death of a Serial Killer," "Biggie & Tupac") arrived in Los Angeles to investigate the crimes, he had little other than news reports with which to launch his film. That is, until he met Pam Brooks, a well-known resident of the neighborhood and self-described former "crack whore." Four years sober when the documentary was filmed, Brooks winningly guides the production from person to person and intersection to intersection as Broomfield and his son, Barney, who serves as director of photography on the project, meet scores of Franklin's associates, including several women familiar with his violent advances.
"Tales of a Grim Sleeper" is fascinating on a filmmaking level because we watch the documentary process unfold in an organic manner. Brooks hops in the Broomfields' car and recruits acquaintances on the street for interviews by hollering out of the window to ask what they know about Franklin and his whereabouts.
Moreover, the movie paints a dire portrait of institutional racism. Quickly after the killings began, some of the community formed the Black Coalition Fighting Back Serial Murders, because "had the third victim been a UCLA student with blond hair and blue eyes," the Los Angeles Police Department may have tended to the case properly, one member argues. Instead, the police told the coalition they were waiting for a gun to pass through their offices that happened to match the bullets found in the victims. They also withheld a sketch, a 911 call and other information about the serial killer for 22 years, until a Los Angeles Weekly article from 2008 exposed the limited attention given to the situation. Instead, the documentary alleges, the LAPD used as a crutch the NHI pretense, or "no human involved," which law enforcement uses to describe murders involving sex workers and drug addicts.
What's most resilient about Broomfield's work here is that the movie seems to take on new life as it unfolds. It's clear the director didn't know what, if anything, he'd glean upon first planting himself in South Central. At the start, residents hurl racial slurs and urge him to leave. But he persists, and what unfolds over 105 minutes is an increasingly troubling look at vicious murders and the complicated backstory that informs how they're treated. There's no fancy camerawork and the editing has a stripped-down feel that may be mistaken for cheapness, but it's apt for a guerrilla-style documentary that grows increasingly grizzly.
Franklin has been behind bars since 2010 and has yet to have a trial. But this section of South Central has been imprisoned since at least 1985, and if the LAPD's purported negligence is to be believed, so has the grander state of racism in America.
"Tales of the Grim Sleeper" screens at the New York Film Festival on Oct. 6 and 7. It will air on HBO in 2015.
BEFORE YOU GO
PHOTO GALLERY
Infamous Serial Killers