The days of buying all of your food at a local grocery store are coming to an end. And that could be a problem for the supermarket industry.
The share of the grocery market held by traditional supermarkets like Kroger, Safeway and Publix will fall to about 37 percent in 2018 from about 40 percent in 2013, according to a recent research note from Jones Lang LaSalle, a investment management firm specializing in real estate. At the same time, wholesale clubs like Costco, grocery delivery sites and so-called fresh format stores like Whole Foods are poised to grow.
The chart below from JLL data shows the percentage by which various food shopping formats are expected to grow through 2018.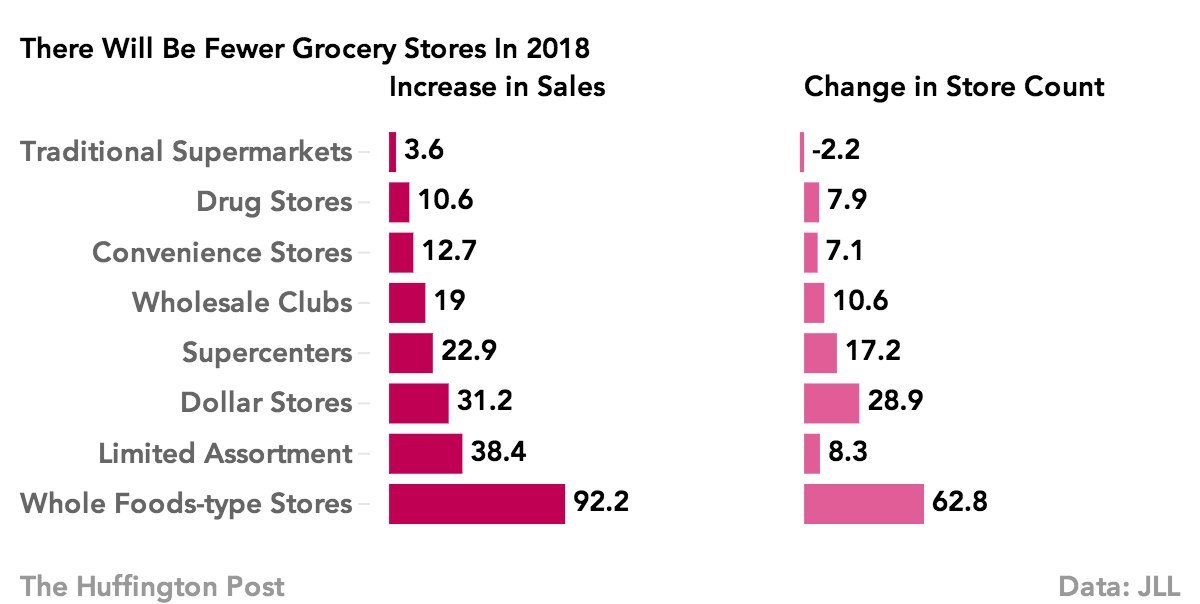 A variety of factors are changing the way we shop, according to the analysts. For one, the recession and slow recovery trained shoppers to look for deals, and they're finding them in Walmart's expanded grocery aisle, one of the chain's new neighborhood markets or a dollar store. In addition, shoppers are increasingly focused on health, making stores like Whole Foods, Fresh Market and Sprouts Farmers Market an attractive option.
Finally, with grocery sites like AmazonFresh, Peapod and others constantly popping up, customers are increasingly turning to the web instead of the supermarket aisle.
With so many ways to find food conveniently and at the right price, Americans are now more likely to hit up as many as five sources to fulfill their grocery needs, the report found. This trend may have already hampered growth for some grocery giants. At Safeway stores open at least a year, sales (excluding fuel) increased just 2.5 percent last quarter, while sales at Sprouts increased by 9.5 percent.
The analysts predict that all of this competition will push more major grocers to consolidate. Already in the past couple of years, Kroger acquired Harris-Teeter and Safeway merged with Albertsons in a deal led by a private equity firm.