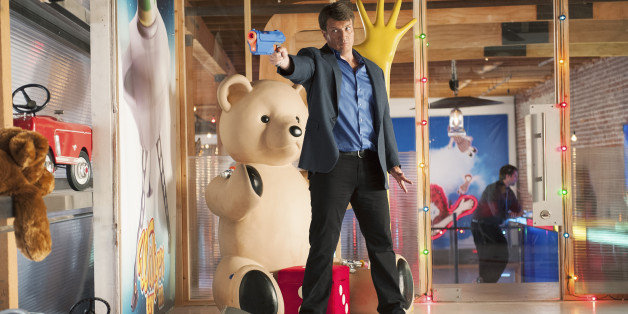 After the series premiere left our heads spinning, the second episode of the seventh season gives us a bit more of the classic Castle case-solving we love. Yet things are still far from normal. Castle is now forced to find a balance between the the mystery of his own disappearance and the weekly murder case.
The Case
The body of Wallace Williger, a toy-company CEO, is discovered by a group of rowers wrapped in plastic in the East River. The team happens upon random clues that seem to lead nowhere: a burner phone, a supposed mistress (who was actually just a makeup artist teaching Williger how to age himself), a dog inside a secretly rented apartment and the fact that Williger worked as a janitor in his own company disguised as an old man. The undercover-boss case makes no sense to Beckett, until she discovers the dog in the apartment is actually a drug-sniffing dog.
The team then figures out that Williger was investigating a drug smuggling operation that was happening under his nose. When he finds out that heroine was being smuggled into the U.S. inside his company's "Sunshine Sarah" dolls he is murdered by his assistant, Matt Monroe, who was the leader of the operation.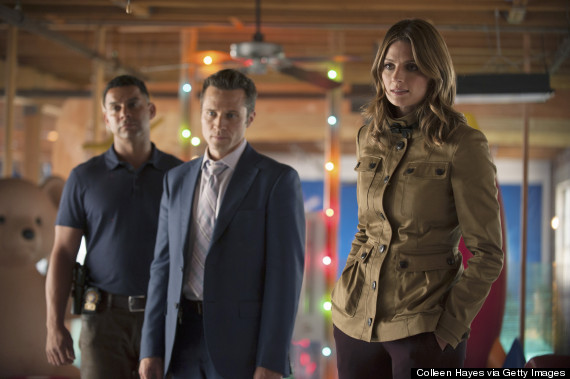 What happened to Castle?
"Montreal" does a good job of balancing the light tone we've come to expect from Castle with the new darker mystery of his disappearance.
After being ambushed by a reporter on TV, Castle decides to offer a reward for any information about where he's been the last two months. This, of course, produces an array of false tips and crazy calls including a man who insists he was with Castle… on a spaceship.
Just as he's about to give up hope a young newlywed couple gives him his first clue. While reviewing their honeymoon pictures they realized Castle was in the background of one of them, talking to none other than Fake Henry Jenkins, from the season 7 premiere. The couple then informs Castle that the photo was taken in Montreal.
They figure out the picture was taken in front of a bank and Castle, after getting permission from Beckett, promptly hops on a plane with Alexis.
Here is where one of the three mysteries from Lanie's examination in "Driven" is cleared up. It turns out that the key with the number 38 engraved on it belongs to a security deposit box in the bank in Montreal. Castle and Alexis discover three envelopes inside the box; one addressed to Kate, one to Alexis and one to Martha, all in Castle's handwriting. All of them have a memory card inside.
Back in the precinct, Castle tells Kate what he discovered and shows her the video on the memory card. The screen lights up and we see Castle saying goodbye and telling Kate that he didn't want to leave her and that he loves her "always."
Tech-guru Tory is able to find some clues in the video and runs a program that locates where it was filmed. Unfortunately she steps out of the room before the program finishes running and Castle runs off to Montreal, alone.
Once in the room where Castle shot the video he is faced with Fake Henry Jenkings holding a gun on him. His shocking revelations leave Castle doubting if he should keep looking into his disappearance.
According to Fake Jenkins, Castle asked to forget everything. "Some mysteries aren't meant to be solved," he says. "It's over now." When Castle has trouble believing he'd ask to have his memory wiped, Fake Jenkins brings up the story of an 11-year-old Rick and what he saw in Hollander's Woods, "The real reason you became a mystery writer."
Castle's shock matches our own as we realize this is the first time we might actually get a glimpse into why Castle does what he does. Castle says he's never told anyone about that incident and realizes that if he told Fake Jenkins there might be some truth to the impostor's tale.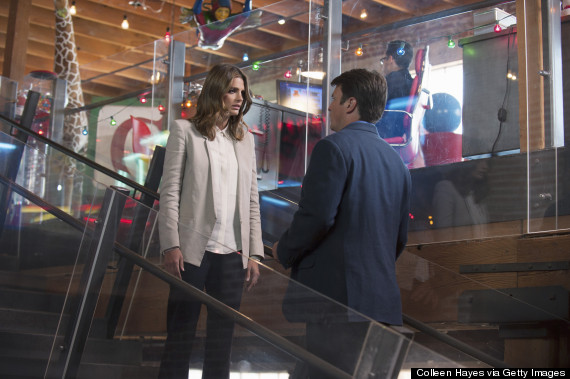 Will they wed?
Back home we get to see Castle and Kate in bed, talking about their next move, still trying to figure out how to be together again. Castle wants to get married right away but Kate insists they need time, a month, to get back to their old selves. "A month," Castle ponders, "It's a date."
Seems like the wedding bells just might be ringing in November.
Worth Noting:
-Lanie and Espo are back together! Apparently Castle's disappearance made them realize life is too short to be apart.
-Castle's scenes in the toy factory were amazing, from stepping on the giant piano to accidentally shooting the assistant. It gave us some time with his inner child, who's always hilarious.
-CASTLE KISSING GATES. Enough said, this was probably the best scene in the whole episode.
-The sneaky bank manager in Montreal was clearly lying about not knowing Castle.
-Still no kiss from Caskett, we get that the relationship is going through tough times guys, but really? The dog interruption was not funny.
Quote of the week:
Castle on going to Montreal to find out what happened to him: "It's Canada, how risky can it be?!"
"Castle" airs on Mondays at 10:00 p.m. EDT on ABC.