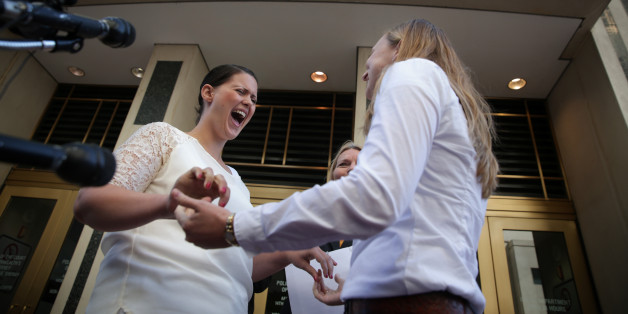 Lesbian, gay, bisexual and transgender (LGBT) couples across Indiana, Oklahoma, Utah, Virginia and Wisconsin scrambled to tie the knot Oct. 6 after the U.S. Supreme Court rejected appeals from those five states which sought to prohibit same-sex marriages.
Just hours later, county clerks in those five states began issuing marriage licenses to those couples -- and their impromptu ceremonies, as seen on social media, are just heartwarming.
The flurry of marriage equality victories doesn't seem likely to end anytime soon, as Colorado, Kansas, North Carolina, South Carolina, West Virginia and Wyoming are in the same judicial circuits and must abide by the appellate rulings that were put on hold pending the Supreme Court's review. When all is said and done in those states (which could happen in short order, according to the Associated Press), same-sex marriage will be legal in 30 states and the District of Columbia.
Check out photos of the first same-sex couples to receive marriage licenses below. Congrats, all!
INDIANA
First gay couple in Marion County gets marriage license following SC decision not to hear appeals. pic.twitter.com/JJIVRVeLmC

— Mary Milz (@MaryWTHR) October 6, 2014
VIRGINIA
Another happy couple... Marriage license in hand. They've been together 8 years. pic.twitter.com/leTZ3XpHZK

— Kristin Smith (@kristin8news) October 6, 2014
You may kiss the bride! #marriageequality pic.twitter.com/sjDEPQ6tWq

— ACLU of Virginia (@ACLUVA) October 6, 2014
Scene outside Arlington County Courthouse in VA as couples begin to marry #MarriageEquality Photo (c) Pop! Wed Co. pic.twitter.com/tnD2rsTpp1

— HumanRightsCampaign (@HRC) October 6, 2014
The first same sex marriage license issued in Norfolk to Bostic and London #vagaymarriage pic.twitter.com/23EPelen9n

— Patrick Wilson (@patrickmwilson) October 6, 2014
First gay couple to get paperwork pic.twitter.com/vh7Gbwgqw8

— Graham Moomaw (@gmoomaw) October 6, 2014
UTAH
@SLCoClerk issuing licenses again for #samesexmarriage #marriageequality #lgbt #utah pic.twitter.com/rDZxF3IFrh

— Nate Currey (@ncurrey) October 6, 2014
Together nearly a decade, finally able to be legally married in the state of Utah, this couple celebrates. #LGBT #UT pic.twitter.com/DPQ5Dug8AS

— Nicole Vowell (@NicoleVowellKSL) October 6, 2014
COMING UP AT 12:30 Hear from Zachary Smallwood and his partner Jason McDermaid about their new same sex union. #KSL pic.twitter.com/sToAn6dtXj

— Nicole Vowell (@NicoleVowellKSL) October 6, 2014
OKLAHOMA
More pics from Oklahoma County's first few same-sex couples pic.twitter.com/VEkCTzma4E

— Ben Felder (@benfelder_okg) October 6, 2014
Bo Bass and Kenny Wright waiting for license. #oklahoma pic.twitter.com/0ldBHyNhb0

— Ben Felder (@benfelder_okg) October 6, 2014
It's official. Mary Bishop & Sharon Baldwin married in Oklahoma. #okeq #okequality pic.twitter.com/oF8jmQY5o1

— Ginnie Graham (@GinnieGraham) October 6, 2014
Second gays couple to marry in OK. Josh McCormick & Bill Owens. #okeq #okequality pic.twitter.com/LrhSWMxUfA

— Ginnie Graham (@GinnieGraham) October 6, 2014
More reporters than people seeking marriage licenses. pic.twitter.com/mjvLJwS3QM

— Jerry Wofford (@jerrywofford) October 6, 2014
Second same sex couple to get marriage license. They are getting married tonight @FreedomOklahoma #ok4marriage pic.twitter.com/gxAcRJ6aFl

— Lisa Monahan (@lmonahan) October 6, 2014
WISCONSIN
First couple coming in to Dane County clerk to get marriage licenses #nbc15 pic.twitter.com/tBsYVoYN3P

— Kate Pabich (@KatePabichNBC15) October 6, 2014
BEFORE YOU GO
PHOTO GALLERY
Gay Couples Rub PDA In Westboro's Face