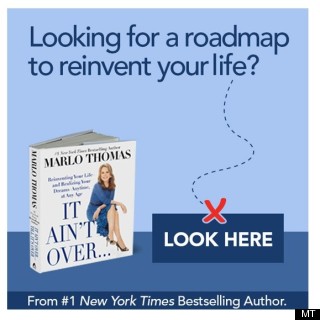 "One of the reasons I started my website is that I wanted a place for women to come together and dream. We women need to know that we don't have to hang on to an old dream that has stopped nurturing us—that there is always time to start a new dream. This week's story is about Kara Gorski and Kristin Gembala -- two sisters who came together to make something positive out of the losses they suffered from breast cancer, creating much needed post-mastectomy product."—Marlo, MarloThomas.com
From the outside, Kara Gorski seemed to have the perfect life. A vice president at an economic consulting firm, she had just landed her dream job giving expert testimony in legal cases. She was a mom to two gorgeous boys, three years and fifteen months old, and was ready to try for another baby.
But on the inside, she felt lost. As she and her husband took a Sunday drive in August 2010, she made a confession: She was overwhelmed. Stretched too thin. Completely frazzled.
What should she change? What could she change? A spiritual person, she had asked the heavens on her thirty-fifth birthday, three days earlier, to send her a sign pointing her in the right direction. Now, returning home from her Sunday drive, she went upstairs to change clothes, pulled off her shirt and sports bra, and her hand brushed a small, hard-as-rock lump on the side of her right breast.
Was this her sign?
Kara flashed back to second grade. She was just seven years old, standing at the side of a hospital bed, staring at the lifeless body of her 39-year-old mother, who has just died of breast cancer. She lightly touched her mom's fingers for a split second—afraid and, at the same time, ashamed of her fear. During all the years since, Kara had tried to push away the pain and confusion of losing her mother when she needed her most.
PHOTO GALLERY
Kara & Kristin
As an adult, she coped by keeping up such a frenetic pace she didn't have time to worry about getting sick herself. She'd had mammograms but was worried about radiation exposure, so with her doctor's okay had skipped her most recent one. And now, without any warning, a lump. This is bad, this is so bad played over and over in her head.
Kara's sister, Kristin Gembala, was having Sunday dinner with her in-laws at her home in Overland Park, Kansas, when the phone rang. She picked up on the distress in Kara's voice right away. Older by five years, Kristin had initially taken on a mothering role after their mom died, leaving just the two of them and their dad. That maternal role still fit: Whereas Kara left home to pursue two Fulbright fellowships and graduate work in Latin America, Kristin married the guy she'd dated since ninth grade, had four babies in ten years, and became a stay-at-home mom and busy school and community volunteer.
Though the sisters had gone down completely different paths and lived halfway across the country from each other, they were close. So as Kara delivered her bad news, Kristin went cold.
"Stay calm," Kristin said, moving out to the deck to pull herself together. "Maybe it's just a cyst. Let's not get out of whack." On the other end, Kara wasn't buying it. She felt condemned; as if she were looking in the mirror and her mother's image was looking back.
Over the coming weeks, the news from Kara's oncologist was mixed: She had Stage 1 breast cancer, but it was a very aggressive type—and one that she had indeed inherited from her mom. Doctors recommended that both her breasts be removed. Once again, she called Kristin.
"Listen, don't worry," said Kristin, still trying to be the reassuring big sister. "I'll go get a double mastectomy, too. We'll do this together." At the time, it was a pledge of support and solidarity. But then Kristin read up on it and learned that she, too, had a 50 percent chance of what she called "this, this brokenness." She went to a genetic counselor, where tests showed she also had the genetic mutation BRCA1, meaning it was nearly 90 percent certain that she, too, would develop breast cancer someday. Having her breasts removed could save her life as well.
So here they were, both face-to-face with the disease that had cast a dark shadow over their entire lives. Their worst fear realized. But they also finally knew it wasn't a random act of nature that had taken their mom so young. This cancer was in their DNA.
That fall and winter, more than 900 miles apart, surgeons removed the sisters' breasts. (They had hysterectomies, too, as the BRCA1 gene also greatly increases the risk of ovarian cancer.) Kristin had implants put in right away; Kara had to wait until she was through chemotherapy. For a year, she was infused with drugs that damaged the nerves in her hands so badly that she could no longer get her boys dressed or buckle them into their car seats. Her hair, eyebrows, and eyelashes fell out. Some days she was exhausted; others she couldn't sleep.
Through it all, Kara and Kristin's bond deepened. They were on the phone at least once a day, and sometimes three or four. "We cried—and laughed— more during that fall than anything else," Kristin says.
In one conversation in the summer of 2011, Kristin complained that she couldn't find a bra that fit well anymore. Surgeons had cut out all of her breast tissue and then put in round, flat-as-a-pancake implants. Her breasts no longer filled out regular bra cups; she had two craters where her nipples used to be. Underwire bras looked better but, with no breast tissue providing cushioning, were painful to wear. Another option was a mastectomy bra: to create a more natural-looking breast shape, each cup had a pocket for holding a heavy prosthetic. "I did not have these implants put in to then have to put explants on top of them!" Kristin ranted.
For six months, they tossed around ideas for how to create a comfortable, lightweight, pretty bra that would give them a filled-out look. "We just wanted something we could put on every day, smile, and keep going," Kristin says. They even came up with a name: braGGs, the word "bra," Gs for each of their last names, and S for sisters. "Not only because we're sisters but because of the sisterhood of the breast cancer community," Kristin says. "We also want women to feel like they can brag again."
Kara and Kristen conducted an online survey with a breast cancer support group, and when the 50 respondents came back with the same complaints they had, the sisters knew they were on the right track.
After a month-long search, they hired a designer who had worked for Jockey and other major undergarment companies and who spent about eight months finding just the right soft, stretchy fabric and creating a prototype.
"To correct those indentations, we made an insert that's built in so there's no prosthetic," Kara says. "It's super comfortable and wire-free."
Then Kara, with her background in intellectual property litigation, applied for a patent. Next, the sisters contracted with a small manufacturer in Pennsylvania, all the while drumming up interest in the bras on their website, braGGsonline.com, and Facebook page and by networking with boutique owners, doctors, and breast cancer survivors.
"People often ask, 'How do you work with your sister?' " Kara says. "Truth is, I couldn't do this with anyone but her."
When the first batch of braGGs came off the factory line in the summer of 2013, a D.C. area boutique had already placed its order and e-customers were awaiting their shipments.
There have been starts and stops along the way, but Kara and Kristin always stick to the M.O. they learned as little girls, the same thing that kept them strong through their mother's death, Kara's cancer, and both of their surgeries: Just put one foot in front of the other.
They work a lot, but not the all-consuming hours of many entrepreneurs. Healthy meals, sleep, and exercise get equal time.
"There's no point in working hard if I'm not going to be here," says Kara, who currently has no signs of cancer in her body and who is participating in a clinical trial testing a drug to prevent recurrence. "Most people who knew me before wouldn't recognize me. I have slowed down."
"It's been a wonderful experience coming up with something that helps so many women, including ourselves," Kristin says. "But we have to laugh sometimes. My teenage boys are like, 'Do we have to talk about bras?'"
Kara and Kristin always remember the silent partner in their business as well. The one in the 1970s black-and-white photo on the braGGs Facebook page. The one who Kara believes sent her the sign that Sunday afternoon that saved her life.
"Our mom is definitely on this journey with us," Kara says. "It's the three of us."
To find out more about Kara and Kristin's journey -- and to read 59 other inspiring stories -- buy your copy of "It Ain't Over Till It's Over." Click here.

Add Marlo On Facebook:
Follow Marlo on Twitter:
Sign up to receive my email newsletter each week - It will keep you up-to-date on upcoming articles, Mondays with Marlo guests, videos, and more!