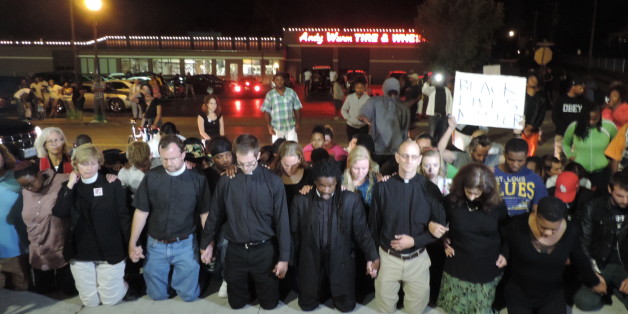 Clergy have been in the midst of the struggle in Ferguson, MO since protests broke out following the shooting of Michael Brown. This weekend, staff and clergy with the faith-based Live Free campaign will gather once more for Ferguson October's Weekend of Resistance.
"The courageous stance of black youth in Ferguson has challenged the church to stand with them against police brutality," Rev. Osagyefo Sekou, Freeman Fellow with the Fellowship of Reconciliation, said in a press statement. "They are the leaders we have been waiting for. We are called to Ferguson to stand with the people because anything less is heresy."
The Weekend of Resistance runs from October 10 - 13 and will include a march on the District Attorney's office, rallies, music events and a series of civil disobedience actions for "Moral Monday."
On Sunday, October 12, Dr. Cornell West will lead a mass meeting joined by Rabbi Susan Talve of Central Reform Congregation, Rev. Jim Wallis, St Louis rapper Tef Poe, poet Suheir Hammad and a coalition of interfaith speakers.
Wallis said in a statement:
"Repentance is a powerful theme throughout the Bible. It isn't just about admitting wrongdoing but also committing to making changes that prevent further harm from being done. While many have lamented the shooting death of Michael Brown in Ferguson, there remains little evidence that public officials in Missouri have the courage to alter their policies and behavior to prevent future injustices. I'm coming to Ferguson because repentance has not happened there yet and the faith community won't rest until it does.​"
One of the most prominent campaigns to emerge from the protests is the "Hands Up, Don't Shoot" coalition, which has worked to bring about concrete changes in the social justice system. The campaign lists seven local and four national demands, which include:
Accountability for police practices and policies, including effective civilian review regarding shootings and allegations of misconduct.
Immediate de-escalation of militarized policing of protestors to protect constitutional rights.
Ensure transparency, accountability, and safety of our communities by requiring front facing cameras in police departments with records of racial disparities in stops, arrests, killings, and excessive force complaints.
"The waters of injustice and racism have been rushing and hidden behind a makeshift dam in the state of Missouri and America since the abolishment of slavery," Rev. Dr. Cassandra Gould, Pastor at Quinn Chapel AME Church, said in a statement. "The tragic circumstances surrounding Michael Brown's death and the aftermath provide glaring evidence that the dam is broken. It is a moral imperative that demands a response from the faith community."
BEFORE YOU GO
PHOTO GALLERY
Scott Olson Ferguson Photos