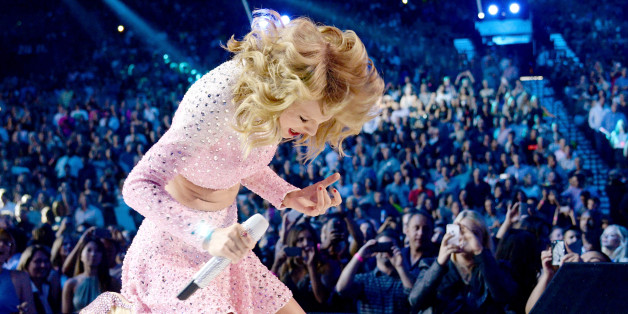 Taylor Swift let out a few details about the second release from her upcoming album, "1989," and it appears it will be "Out of the Woods." On Thursday morning she shared a photo on Instagram, which teased something coming in five days. It can only be assumed that the forest shot is an obvious reference to "Out of the Woods."
Co-written by Jack Antonoff, the song was referenced in Rolling Stone's profile of Swift, which said that the track seems to be about her ex, One Direction member Harry Styles. Described as "a frantic tale of a relationship," Swift apparently discusses her and Styles' struggles together, saying, "every day was a struggle. Forget making plans for life – we were just trying to make it to next week." The song also details a snowmobile crash in which Swift "saw her life flash before her eyes," singing, "Remember when you hit the brakes too soon/Twenty stitches in a hospital room." According to Swift, both went to the ER, although she was "not as hurt."
Antonoff expressed his love for "Out of the Woods" back in September, tweeting out that the song is "one of the most important things I've ever been a part of."
not a correction: "OUT OF THE WOODS" is one of the most important things I've ever been a part of. cannot wait for you to hear it

— jackantonoff (@jackantonoff) September 16, 2014
We will find out in five days if the new song lives up to the hype, but for now, just shake it off.
UPDATE - 3:30 pm: Taylor Swift addressed her recent Instagram post, clarifying that a song is indeed on the way, but that it isn't her next single. "What is coming in the next few days is a new song that I think best represents #1989," Swift wrote.
To clarify, what is coming in the next few days is a new song that I think best represents #1989. It is NOT my next single. #ShakeItOff

— Taylor Swift (@taylorswift13) October 9, 2014
BEFORE YOU GO
PHOTO GALLERY
Taylor Swift's History Of Rapping