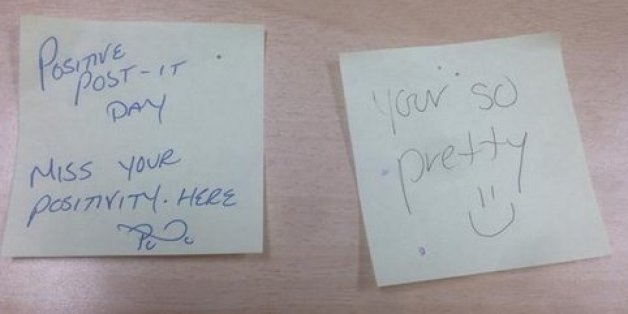 After high school student Caitlin Prater-Haacke was cyberbullied, she wanted to do something that would uplift her school community. In response to an incident where Prater-Haacke was left hurtful messages online, the teen put sticky notes with uplifting messages on her peers' lockers.
But in a move that has outraged community members, the student was initially reprimanded for her deed, according to Canadian outlet CTV News.
Several weeks ago, someone broke into Prater-Haacke's locker at McDougall High School in Alberta, Canada, and stole her iPad. After stealing the iPad, they hacked her Facebook and posted a status update declaring Prater-Haacke should die, reports The Toronto Sun.
This past week, the teen responded with her Post-it note project, in which she put messages like "you're awesome" and "you're beautiful," on lockers before students arrived at school.
However, some of the sticky notes eventually fell off the lockers, cluttering school floors. In response, school officials chastised Prater-Haacke for causing the litter, says the outlet.
But Prater-Haacke's local community rallied behind her and her project. On Thursday, the city of Airdrie in Alberta had a Post-it Day to spread messages of kindness, reports CTV News. On that day, Post-it notes were plastered around the city with positive mantras.
Her school also apparently changed their tune on the concept, and allowed Post-it notes on lockers, says the Toronto Sun.
"What's come out of it is 100 times better," said Prater-Haacke said of the Post-it note day, according to CBC News.
"I think it put a smile on everyone's face this morning and I think it gave them that little bit of extra oomph for the morning to get them going," said local resident David Jones told the outlet.
Below are some images of the post-it notes from the day:
Grade 1 participating in #postitday @PonokaElem pic.twitter.com/pChS7iG5nA

— Courtney Larsen (@Corddy3) October 9, 2014
I'm in...
#positivepostitday #postitday #yyc pic.twitter.com/bz4YhZikIB

— Travelling Light (@GiantBlueRing) October 9, 2014
Meant to share this yesterday! I got two lovely #positivepostit messages from coworkers! #caitlinhaacke pic.twitter.com/aooasw3WKG

— Paula R (@wonderfulp) October 10, 2014
Caitlin Prater-Haacke, you are an inspiration! Keep on Shining! #PositivePostItDay #caitlinhaacke pic.twitter.com/NSzJGhJDaf

— Liz Coffey (@LizCoffey20) October 10, 2014
Spreading some love and enjoying finding it! #PositivePostIt #caitlinhaacke 💗 pic.twitter.com/IdTe6BhDvD

— Locket Up Lady (@LocketUpLady) October 9, 2014
Follow HuffPost Teen on
Twitter |
Instagram |
Tumblr |
Pheed |
BEFORE YOU GO
PHOTO GALLERY
States With Best Educational Outcomes For Girls