Squated.
In the first episode of the last season of "Gossip Girl," Lily van der Woodsen returns to New York and shows up at her ex-husband Rufus Humphrey's apartment ...
Humphery: Lily. What are you doing here? I thought you and Bart were circling the globe on an 80-foot yacht.
Van der Woodsen: Well the yacht was a 110 feet and most people who've actually been on one call it a boat.

I look out a floor-to-ceiling window of the Standard Hotel in Manhattan and watch a boat travel south down the Hudson River. I refocus on the room as Kelly Rutherford, aka Lily van der Woodsen, finishes reading a speech about Aflac's new wellness program, Duck Does Yoga, the sponsor of the event. Rutherford is leading a yoga session along with celebrity instructor, Kristin McGee.
I've never done yoga before this day. It always felt like one of those things that just wasn't going to happen. But I couldn't turn down this special opportunity to make my first yoga time be with Lily van der Woodsen. I've never done yoga, but I have seen every episode of "Gossip Girl."
Right leg up. Left leg up. Inhale. Slowly rise. Exhale. Swan dive. I am fairly terrible and at many moments am on the brink of falling over.
Later on in that first episode of the last season ...
H: Whatever this is, Lil, isn't your fault.
V: And why should I believe that?

After the yoga attempt, I get to spend a few minutes asking Rutherford questions. I apologize for the shorts I wore to the class as I fear Lily van der Woodsen would frown at such attire. Rutherford, with a laugh, assures me it's fine.
I ask Rutherford if she has any tips for a beginner like me. She does:
I would just take it slow, so you don't get any injuries ... Because the whole point, really, is to get in touch with your body and to listen to your body. So if you're doing yoga and you're listening to your body, you'll say, "Oh, that's enough for me. I want to lie down on the mat and relax through this next set." I mean, I do it all the time. I think the key is just listening to your body.
(My mind is telling me yes, but my body, my body is telling me XOXO.)
From here, I explain I'm just going to throw some rapid-fire "Gossip Girl" questions in her direction, as I'm a huge fan. Rutherford is cool with this.
What was the first thought that came to your mind when you found out Dan was Gossip Girl before starting the finale?
I was actually surprised. I was hoping it was me.
Don't we all?
I know! But, I loved his character. I think it's perfect that it was his character. Because he was sort of the outsider, the one that was sort of looking at it with perspective. I thought it was a great choice.
Do you ever see Penn Badgley any more? He has his rock band ...
Mother, yeah. No, I haven't. I've been trying to get him to perform for my charity that I do. So we'll see, I hope so! But they all sing! Leighton [Meester] is an incredible musician and singer. Penn is, even Ed Westwick plays with his friends. You know they're all so musical, I had no idea.
They should all be a band.
Seriously!
Do you play music?
No, my brother is amazing, my brother got all the musical talent in the family.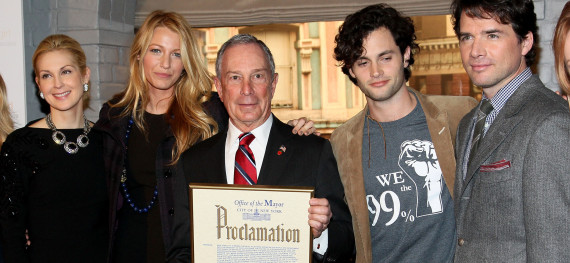 So Gossip Girl Day is Jan. 26 in New York City, what is the best way to celebrate the holiday besides watching the episodes?
I know they have a "Gossip Girl" tour. You can go to all the places. They did such a good job on the show really incorporating New York and making it a character. So there's so many good places to go where we filmed, and they're all pretty fun places to go.
You once mentioned that the finale ended in a good place for there to be a movie. Have you talked to Josh Schwartz and Stephanie Savage any more about the possibilities?
You know, I haven't. I figured that they would do it if they could. I don't know why, I don't know why they haven't. Maybe some of the actors aren't available. I don't know why they haven't done it. I think it's a great idea to do it. You know, I'm not the producer of the show unfortunately. Or I would have done it!


Chuck and Blair were TV's greatest couple, what do you think their son, Henry, will grow up to do?
Oh my god, he will be very well dressed. Super witty and handsome. Probably do what his dad did.
Fall in the father's footsteps.
Exactly.
****
As I'm leaving, Rutherford asks about the class. I reply by making an expression that makes it clear that any failings were of my own doing. Rutherford tries to reassure me:
"It takes you a little while. I'll go in somedays and I'll be so balanced and then I'll go on other days and I can't even ..."
I told her I was just falling, mostly. Rutherford laughs and says, "I've been doing this a long time" and that there are some days when it's just not going to happen."
Interview over. I exhale. I swan dive. I look down at my feet and they were always truly among 110 feet in the large class. Most people who actually know Lily, would call her Kelly.
Yoga, you love me. XOXO.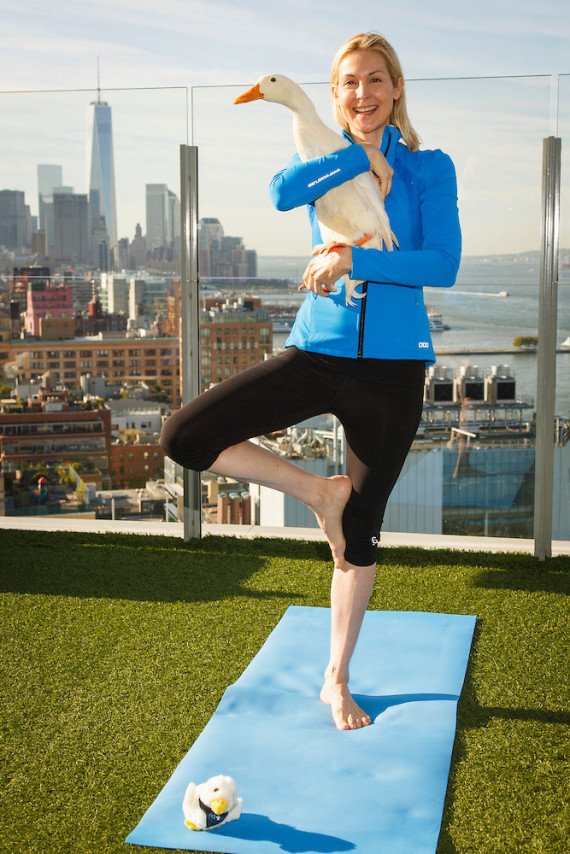 Images: Tops - Kelly Rutherford Facebook. Concert - Penn Badgley Facebook. GG Day - Getty.
BEFORE YOU GO
PHOTO GALLERY
Gossip Girl Season 6