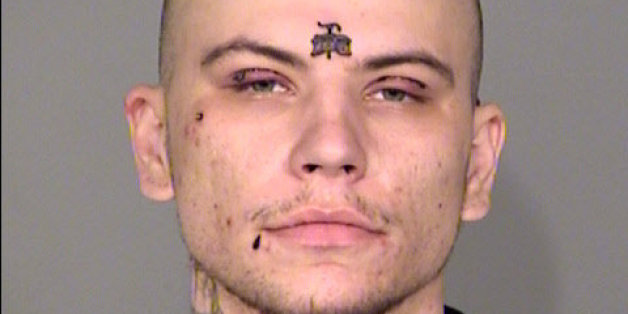 Orange is the new white!
An Indiana judge says quadruple homicide suspect Kenneth "Cody" Rackemann can marry his fiancee in jail, but he won't be allowed wedding photos or physical contact, the Indy Star reports. Rackemann, 24, has been appealing to tie the knot as he awaits his trial for allegedly shooting four people dead in February, according to court documents.
His first two marriage requests were denied, but Marion Superior Court Judge Kurt Eisgruber reconsidered after the local sheriff's office agreed to oversee the ceremony. The Indy Star reports on the rules:
The ceremony will be performed by the jail chaplain. [Tia Brassfield, Rackemann's fiancee] must be the only non-sheriff's office staff at the ceremony and witnesses must be provided by the sheriff's office, according to documents. Rackemann's attorney also is allowed to attend.

All conditions about the jail wedding, including date and location within the jail, will be set by the jail commander, according to documents. The sheriff's office also will not allow photographs or any physical contact between the bride and groom.
Rackemann is accused of shooting Walter Burnell, Jacob Rodemich, Kristy Sanchez and Hayley Navarro on Feb. 20. Rackemann and three other defendants in the case allegedly conspired to rob Burnell, and ended up shooting all four victims, according to WISH-TV. Prosecutors say he only injured Navarro, but his co-conspirator, 21-year-old Valencia Williams, is accused of firing the fatal shot. They previously sought the death penalty against Rackemann.
Brassfield told the Indy Star that the couple has been together since 2007.
"I'm excited. I cannot wait. I love him," she said. "Why else would you want to get married?"
A wedding date and location haven't yet been set.
Like Us On Facebook |

Follow Us On Twitter |

Contact The Author
BEFORE YOU GO
PHOTO GALLERY
Serial Killer Last Meals