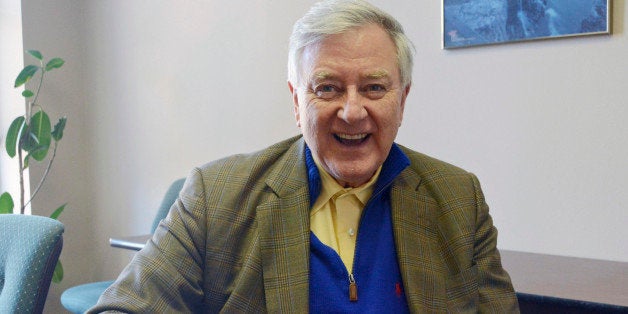 The latest Senate contest to feature questions about local roots is in South Dakota, where Republican-turned-independent former Sen. Larry Pressler faced a Friday Politico report detailing how he maintains his principal residency in Washington, D.C.
Pressler, who is challenging Democrat Rick Weiland and former Gov. Mike Rounds (R) in the race to succeed retiring Sen. Tim Johnson (D-S.D.), receives a homestead tax deduction for the condo he and his wife own in Foggy Bottom.
The independent told Politico that he and his wife are "longtime voters in South Dakota" and purchased the condo in 2003, because his wife works in the District. Pressler also owns an apartment in New York City and rents another in Sioux Falls, South Dakota.
The Senate race has become increasingly competitive, despite the state's deep-red character. A recent SurveyUSA poll showed 35 percent of voters favoring Rounds, with 32 percent for Pressler and 28 percent for Weiland, leading the Democratic Senatorial Campaign Committee to announce a new investment of $1 million in the state. Other outside groups, including the campaign-finance oriented Mayday PAC and Every Voice Action, as well as Democracy for America, have also pitched in new support for the Democrat.
Weiland senior adviser Steve Jarding told The Huffington Post on Friday that the report isn't unexpected, as both Weiland and Pressler have received increased scrutiny, given Rounds' weak poll numbers.
"Everyone's gonna get looked at, and Larry's kinda had a free pass to date, so he's going to have to deal with people paying attention and let the chips fall where they may," Jarding said.
Though Pressler has refused to say which party he'd caucus with in Congress, he publicly endorsed President Barack Obama in 2008 and 2012 and has said he'd be a "friend" of the president if he were elected.
Residency questions have dogged candidates in other close Senate contests. Democrats have flagged verbal slip-ups from former Sen. Scott Brown (R-Mass.), who is now running for the Senate in New Hampshire. Sen. Mary Landrieu (D-La.) has been accused of not being qualified to run for re-election because of the home she owns in Washington. Democrats have highlighted the property tax breaks Alaska Republican Senate candidate Dan Sullivan received in Maryland, and Sen. Pat Roberts (R-Kan.) took a hit in the polls after a report detailed how he doesn't own a home in Kansas.
BEFORE YOU GO
PHOTO GALLERY
Senate Seats Up For Grabs In 2014