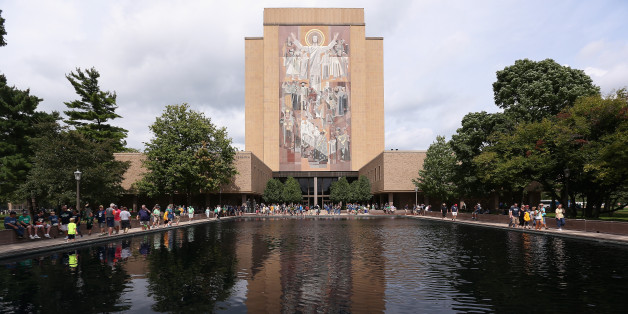 The University of Notre Dame and Saint Mary's College will extend benefits to legally married same-sex spouses of employees, the schools announced this week. The decisions came in the wake of the Supreme Court's rejection of appeals to strike down same-sex marriage in several states, including Indiana.
On Wednesday Notre Dame notified employees of the change by email, saying:
"Notre Dame is a Catholic university and endorses a Catholic view of marriage. However, it will follow the relevant civil law and begin to implement this change immediately."
A spokesperson for Saint Mary's, a Catholic women's school, told South Bend Tribune that the college would also immediately comply with the law and extend benefits to all married spouses of employees.
"Being an out staff member, I feel a lot more confident that my concerns are being heard and responded to," Aaron Nichols, an openly gay staff member at Notre Dame, told South Bend Tribune. "The university is no longer acting in a vacuum. That makes me proud to be ND."
On Monday the Supreme Court declined to interfere with rulings that allow same-sex marriage in Virginia, Utah, Oklahoma, Indiana and Wisconsin, which many saw as a precedent that could pave the way for further acceptance of gay marriage around the country.
Despite the announcements from Notre Dame and Saint Mary's, many private religious schools and institutions still refuse to comply with federal rulings on same-sex marriage and employee non-discrimination. Holy Cross College, Ancilla College, Bethel College and Goshen College -- all religious schools in Indiana -- currently do not offer benefits to same-sex spouses.
In Massachusetts, where gay marriage is also legal, a private Christian school Gordon College signed onto a letter of faith-based organizations in July petitioning the Obama administration for exemption from employee non-discrimination regulations on the basis of religious objection to same-sex relationships.
The debate has also come to bear in cases where employees are fired after coming out as LGBT. In July, Olivia Reichert and Christina Gambaro were asked to resign from Cor Jesu Academy, an all-girls Catholic high school, when the institution learned of the couple's marriage.
Missouri, where Cor Jesu is located, does not allow same-sex marriages but does recognize those performed in other states. Reichert and Gambaro got married in New York over the summer, but felt they had no legal grounds on which to appeal their firing.
"The law is not on our side, nor is the church," Gambaro wrote on Facebook, "so we have no ground to stand on."
BEFORE YOU GO
PHOTO GALLERY
Statements On LGBT People From Faith Leaders