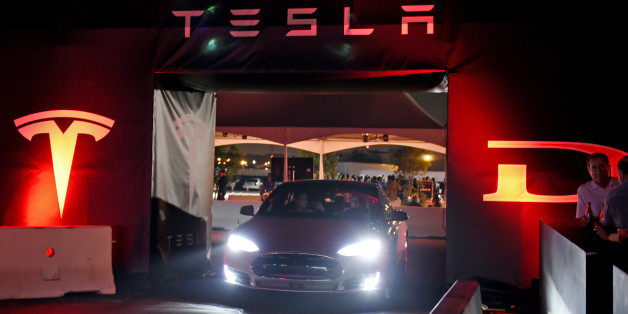 The world wasn't ready for a driverless car. And neither was Tesla.
CEO Elon Musk disappointed some people -- at least on Wall Street -- on Thursday when he unveiled exactly what everyone was expecting at a product launch event outside Los Angeles. Tesla rolled out a super-fast, all-wheel drive "D" line of Model S sedans, which come equipped with a limited autopilot function.
With the new release, Tesla caught up the competition -- rather than leapfrogging over it. Rivals Mercedes-Benz and Jaguar have already released functions that allow their luxury sedans to park and stay within the lines of the road autonomously.
It's not that Tesla couldn't have zoomed ahead of its fellow carmakers. It has the technology -- just last week, Musk told CNN that Teslas could be 90 percent "capable of autopilot" by next year. But, regulatory and safety concerns aside, the company is not ready to drastically alter the way people drive cars just as people are beginning to buy the company's vehicles.
"If he made this huge announcement about driverless cars, "I'd say, 'Well, why are you making and selling all these different vehicles that aren't going to be driven that way?" Carter Driscoll, a senior analyst of clean technology at investment bank MLV & Co., told The Huffington Post.
Tesla is slated to debut its first SUV, the Model X, sometime next year -- the company has already taken reservations for preorders for the vehicle. By 2017, the upstart automaker hopes to begin production on the Model 3, its first mass-market vehicle expected to sell for about $35,000.
There's no doubt those upcoming cars will feature the new autopilot hardware, which includes frontal radar to detect where other cars are and cameras that can read road signs and adjust the Tesla to meet the speed limit.
But that technology, advanced as it may be, still needs to be time-tested, and consumers need more time to get comfortable with it.
"What happens when the road sign is covered in snow?" Karl Brauer, a senior analyst at the automotive research firm Kelley Blue Book, told HuffPost. "It's not that the technology couldn't do it in theory, it's that there's going to be 1 million and one exceptions."
From the vantage point of a technology utopian, driverless cars present endless possibilities -- reducing traffic deaths, scaling back carbon emissions, providing a designated driver anytime a car owner so much as sniffs an alcoholic beverage. That seems to be the vision put forth by Google, which began parading its little, steering wheel-free, beetle-like cars earlier this year.
Last year, Tesla kicked off talks with Google about developing driverless cars. And, by Morgan Stanley analyst Adam Jonas' estimation, Tesla may be poised to become the industry leader in autonomous driving.
That's what the company did with electric vehicles. Musk has revived the long-dead dream of a zero-emissions car by making an attractive vehicle that's also eco-friendly: The Model S is luxurious, sexily designed and fun to drive -- just ask anyone who's been behind the wheel of one. But it's just that -- people like to be behind the wheel.
Brauer said the shift to autonomous vehicles will be an evolution, not a revolution.
"There's still a journey to be made to get to autonomous vehicles," he said. "It's not a two-year journey, it's not a five-year journey. It's going to be years and years in the making."