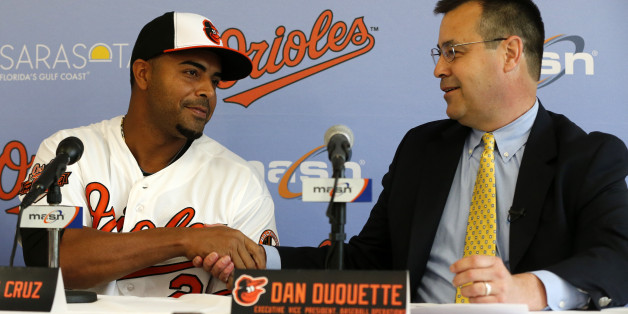 For the Baltimore Orioles, it has been about "opportunity" all season long. The team found itself four wins from the World Series because the players on the field, the manager in the dugout and the executives in the front office made the most of so many of the opportunities presented to them.
Beginning in spring training, Baltimore manager Buck Showalter has used that other O-word when talking about his Orioles. With his roster taking shape in Sarasota, Fla., he boasted of the club's willingness to give players the chance to show they could contribute. Several months and 100 wins later, the 58-year-old skipper talked about how his squad had "won an opportunity" by earning a spot in the American League Championship Series.
"We may not be able to outdo in some other areas, but we can 'outopportunity' people," Showalter said of his team's penchant for giving players a chance to succeed in different roles after their three-game sweep of Detroit in the ALDS. "A lot of guys took an opportunity and ran with it, so they're going to get a chance to continue to roll the dice."
Perhaps more important to the Orioles' successes than the players who ran with those opportunities were the decision makers -- notably general manager Dan Duquette -- who brought them to Baltimore. Here are just a few of the moves, some that seemed quite small at the time they were made, that have paid off in a big way for the O's as they earned a berth in the ALCS for the first time since 1997:
Signing Nelson Cruz: The most important offseason move the Orioles made came late when they signed Nelson Cruz to a one-year, $8 million contract in February. Many teams seemed to be passing on Cruz as he was coming off a 2013 season in which he was suspended 50 games as part of the Biogenesis performance-enhancing drug scandal. He proved to be perhaps the best bargain of the offseason, slugging 40 homers (most in the majors) and recording 108 RBI in 2014. He also continued his dominance of the Detroit Tigers in the postseason, batting .500 with two crucial home runs as the O's completed a three-game ALDS sweep.
Acquiring Alejandro De Aza: - On August 31, the Orioles dealt a pair of minor leaguers to the Chicago White sox for left-handed outfielder Alejandro De Aza. With Chicago, De Aza was batting .243 and had a .309 on-base percentage in 2014. In 20 regular-season games with the O's, he batted .293 and had a .341 OBP. He was 3 for 8 with two RBI in the ALDS.
Bringing Back Steve Pearce: Utility player Steve Pearce was designated for assignment on April 22, giving the Orioles 10 days to either trade, release or put him through waivers. The team then put him on unconditional release waivers, per the Baltimore Sun. The Toronto Blue Jays claimed Pearce, but he rejected the claim to become a free agent. With a void at first base after Chris Davis suffered an oblique injury, the Orioles quickly re-signed Pearce. In 120 games for the Orioles in 2014, Pearce hit 21 homers and drove in 49 runs.
Making Zach Britton The Permanent Closer - With Baltimore's opening-day closer Tommy Hunter struggling and injured in May, the team was expected to go with a closer-by-committee. When Hunter eventually returned from the disabled list, O's manager Buck Showalter chose not to give him a chance to earn his job back, sticking with Zach Britton as his closer. Britton, who did not have a single career save entering the 2014 campaign and was coming off a lackluster 2013 season that included a trip to the instructional league in September, recorded 37 saves in 41 opportunities as the O's won the AL East.
Platooning Caleb Joseph/Nick Hundley - When All-Star catcher Matt Wieters went down in May with an elbow injury that would require Tommy John surgery, the Orioles called up Caleb Joseph from Triple-A and traded for Nick Hundley to fill his gear. While their batting averages aren't much to brag about, the platoon provided timely hitting while Joseph recorded a caught stealing percentage of 40.
Acquiring Delmon Young - Some questioned the Orioles for acquiring Delmon Young in January. Nobody is questioning the move now. Young went 10 for 20 this season as a pinch-hitter with a homer and five RBI. Overall, he batted .302 and hit seven homers in 2014. In Game 2 of the ALDS against the Detroit Tigers, he delivered a bases-loaded, pinch-hit double to give the Orioles a 7-6 lead in the eighth inning.
Trading For Reliever Andrew Miller - The Orioles were relatively quiet at the non-waiver trade deadline, only trading a pitching prospect to Boston for reliever Andrew Miller. The move has done wonders for Baltimore's bullpen. In just 20 regular season innings with the O's, Miller struck out 34 batters and only gave up three earned runs. In the ALDS, he struck out three in 3.1 innings without giving up a run.