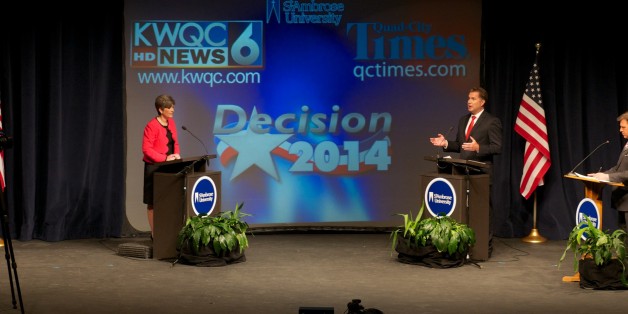 WASHINGTON -- Rep. Bruce Braley (D-Iowa) and state Sen. Joni Ernst (R) clashed over many issues in Saturday's Iowa Senate debate, but the role of dark money in what is considered one of the closest Senate races in the nation prompted the most lively exchange from both candidates.
Braley, a four-term congressman who has suffered several missteps in the race, repeatedly accused Ernst of being in the pocket of Charles and David Koch, the billionaire industrialists whose political network has spent countless millions in favor of Republicans and conservative causes across the country. Ernst, an officer in the Iowa National Guard and an Iraq War veteran, countered each time by accusing Braley of being beholden to billionaire environmentalist Tom Steyer, whose organization NextGen Climate has spent millions across the country, including in Iowa, to encourage action to stem the tide of global warming.
Asked to respond to claims made by Democrats and outside groups, Ernst denied aligning herself with the Koch brothers and said she was a victim of "misinformation."
"This is so much misinformation that's coming from [Senate Majority Leader] Harry Reid's Senate Majority PAC, from extreme environmentalist Tom Steyer from California and coming from the congressman's own campaign. I have been outspent from outside money coming into the state of Iowa by about two million dollars. So I take issue with that, and that's misinformation," she said.
That prompted Braley to note Ernst's attendance at a June conference sponsored by the Koch brothers, where she credited donors with helping usher her forward to the steps of the U.S. Senate.
"The truth is you attended two secret donor meetings in California that were hosted by the Koch brothers. You called them 'wonderful' in that meeting. You credited them with launching your Senate campaign. And these are the same Koch brothers who have seven different organizations attacking me right now. Seven," the congressman said.
"These are the biggest supporters you have in your campaign right now. And it's a fair criticism to ask about how they're supporting you in these elections," he added.
Ernst shot back at Braley, noting that he, too, had a wealthy backer in a race that may determine the control of the Senate in January.
"This is from someone who that's being supported by California billionaire extreme environmentalist who opposes the Keystone pipeline," she said.
Braley challenged his Republican opponent to renounce the flood of unregulated dark money, similar to the formal agreement negotiated by former Sen. Scott Brown and Elizabeth Warren in 2012 that was designed to curb the influence of outside spending in their campaign. But Ernst demurred.
"There are probably reforms that could be made, but again, I am being outspent by two million dollars from these very organizations that are supporting congressman Braley. So here he is calling for reform, but we're being tremendously outspent by these organizations," she said.
The Koch brothers and Steyer weren't the only influential billionaires to make a cameo in the spirited debate. Braley was asked to respond to an ad from the National Rifle Association which tied the candidate to former New York City mayor Michael Bloomberg, a wealthy gun control proponent.
"I've never met Michael Bloomberg," Braley exclaimed. "I have no idea what these ads are based upon other than a fear that I'm going to bring common sense, reasonable solutions to gun violence."
Republicans immediately pounced by noting that Braley spoke at a 2010 event where he was "joined" by gun control proponents, including one Michael Bloomberg. But it is unclear whether the two men met at all.
The latest Des Moines Register poll shows the Iowa Senate race in a dead heat, with Ernst topping Braley by just one point. HuffPost Pollster, which averages all publicly available polling data, currently shows Ernst topping Braley 48.2 percent to 44.7 percent.
BEFORE YOU GO
PHOTO GALLERY
Senate Seats Up For Grabs In 2014