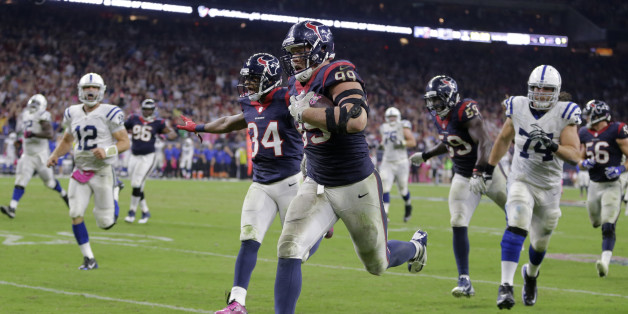 Houston Texans defensive end J.J. Watt is heralded for his ability to prevent touchdowns. But this season, Watt has made a habit of actually scoring them. After returning a fumbled snap 45 yards for a touchdown against the Indianapolis Colts on Thursday night, Watt has three scores through six games this season.
Excluding quarterbacks, Watt is tied for 22nd among all NFL players in touchdowns. The 25-year-old defensive standout has more touchdowns so far this season than 16 offensive skill position players from the 2014 Pro Bowl . While Watt's Texans played a sixth game before most teams, the list of players that he holds TD-count bragging rights over at the moment is quite impressive.
Here are few of the offensive standouts who will enter their Week 6 games chasing Watt:
Matt Forte
Lesean McCoy
Larry Fitzgerald
Cordarelle Patterson
Andre Johnson
Frank Gore
Vernon Davis
Jason Witten
A.J. Green
DeSean Jackson
Calvin Johnson

While he has been finding the end zone at an impressive rate, Watt seems to need a few more scores in order to perfect his version of the nae nae.