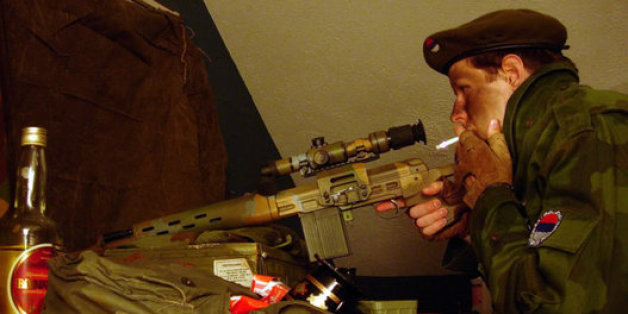 There are 300 troopers trying to hunt down cop-killer suspect Eric Frein right now, yet they're always one step behind.
Police have found the survivalist's soiled diapers. They found Frein's first-person account of the shot that killed state trooper Bryon Dickson. They even found pipe bombs.
But they haven't found Frein. Each week, the manhunt in Pennsylvania's Pocono Mountain region costs law enforcement agencies at least $1.3 million, and each week that passes prompts more desperate search tactics. This week, police say they hope cold weather, falling leaves and dwindling supplies will drive Frein out of the woods -- if he's still out there, the New York Daily News reports.
With no guarantee that the search will end soon, it raises the questions of how long the Pennsylvania State Police can keep up the pressure, and is it worth the costs that — in personnel alone — almost certainly exceed $1.3 million per week.

The answers to those questions, according to retired state police Troop M Commander Ted Kohuth, are "as long as it takes" and "whatever cost is necessary."
Frein is the prime suspect in an ambush on Dickson and fellow trooper Alex Douglass on Sept. 12, outside the state police barracks in Blooming Grove Township. Since then, as many as 1,000 officers from local, state and federal law enforcement have scoured five square miles of thickly wooded park land around the crime scene.
There are as many as 300 troopers and another 200 FBI employees involved in the ongoing manhunt. Troopers work 12-hour shifts daily, seven days a week, and make four hours of overtime pay every day, The Morning Call reports.
"When is it enough? Police will have to confront that question at some point, but not yet," John DeCarlo, who coordinates police studies at John Jay College of Criminal Justice in New York, told The Morning Call. "As a chief, I always had to consider budget, but not when it came to murder. The rules for homicide are different. You spare no expense. You do what has to be done. At some point, they'll have to take stock. It's not to that point yet, but if he's not caught, it's coming."
Meanwhile, Frein's ghost still haunts the Pocono Mountain region. Halloween is canceled in Barrett Township, hunting season is on a decline, and local business is reeling.
Like Us On Facebook |

Follow Us On Twitter |

Contact The Author
BEFORE YOU GO
PHOTO GALLERY
PA State Police Barracks Shooting