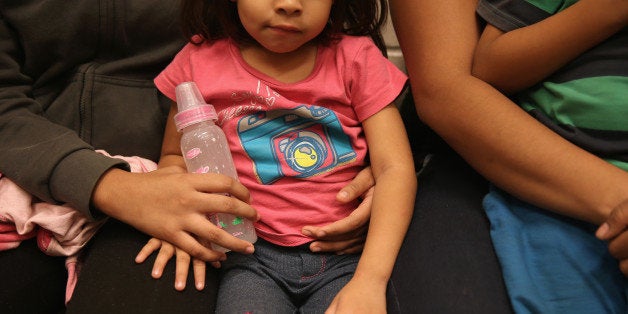 WASHINGTON -- Organizations and individuals have raised more than $1.5 million to help unaccompanied minors who came to the U.S. from Central America at crisis levels over the past year, including many who fled violence and now face deportation.
The effort was started by the California Endowment, a health care advocacy group that has been running a campaign called "They Are Children" offering support to children and teenagers who crossed the U.S.-Mexico border illegally. The group partnered with Univision Communications Inc., and other organizations to raise money to help the unaccompanied minors, who often need legal help and other aid as they await a decision whether they can remain in the U.S.
The funding came from a variety of sources, including a $500,000 grant from the California Endowment and a $300,000 grant from the James Irvine Foundation. Employees and customers of Mi Pueblo grocery stores in California raised more than $100,000, while Marc Benioff, CEO of salesforce.com, and his wife, Lynne, donated $500,000. Univision Communications, meanwhile, has aired public service announcements and other programs to raise awareness about what unaccompanied minors have been through.
More than 68,000 unaccompanied children and teenagers, most of them from Central America, were apprehended crossing the border illegally in the 2014 fiscal year, putting a serious strain on the already stretched system to deal with minors who come to the U.S. without their parents. While children from Mexico and Canada can be quickly deported, those from other countries typically go through a more time-consuming process to determine whether they may be eligible to stay in the U.S., through asylum claims or other relief.
During that time, the children and teenagers are typically placed with family or in foster homes. But they still have needs, which groups are stepping in to try to provide. The $1.5 million in funds raised by the coalition of groups organized by the California Endowment will go toward food, shelter, health care, counseling and legal representation for unaccompanied minors from Central America.
Although immigration proceedings are complicated and intimidating -- particularly for those who speak little English -- children are not provided legal representation from the government. One of the grants went to Kids In Need of Defense, or KIND, which pairs children with pro bono attorneys who help them fight their cases.
Some lawmakers have contributed to legal aid for unaccompanied minors, who are more likely to be successful in applying for deportation relief if they have an attorney. In California, Gov. Jerry Brown (D) signed a bill on Sept. 27 to provide $3 million in legal aid for unaccompanied minors. The San Francisco Board of Supervisors approved more than $2 million to pay for legal support for the children and teenagers.
BEFORE YOU GO
PHOTO GALLERY
Overwhelmed Border Patrol