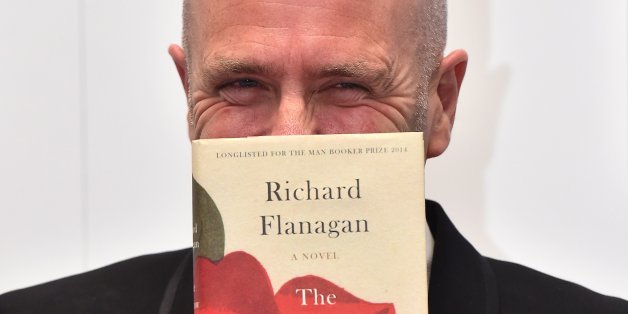 This year's Man Booker Prize has been awarded to Richard Flanagan, author of The Narrow Road to the Deep North.
Born in Tasmania, Flanagan was the only Australian writer to make this year's shortlist. His novel chronicles the experiences of a surgeon who has been imprisoned on the Burma Death Railway, a Japanese war camp during World War II. His sixth book, it's based on his father's true story. Philosopher and Booker chair A.C. Grayling called it "the sort of book that kicks you so hard in the stomach."
This year's shortlist was comprised of six books, including How to be Both by Ali Smith, J by Howard Jacobson, The Lives of Others by Neel Mukherjee, The Narrow Road to the Deep North by Richard Flanagan, To Rise Again at a Decent Hour by Joshua Ferris and We Are All Completely Beside Ourselves by Karen Joy Fowler. Earlier today, the Guardian predicted that Mukherjee would be the recipient of the $50,000 prize.
The shortlist was whittled down from a 13-title longlist; the latter included four Americans, while the former included two. Ferris's title follows a disgruntled dentist around Manhattan, and Fowler's story, a PEN/Faulkner award contender, chronicles an unconventional pair of sisters, and their struggles to communicate. This is the first year that the 46-year-old prize has been open to the authors around the world, so long as their work was originally written in English. Formerly it was restricted to the United Kingdom and Commonwealth nations -- the switch drummed up criticism from British and Commonwealth authors, who question whether the prize would be able to maintain its "flavor."
Last year's winner, Eleanor Catton, spoke in favor of the change: "I think it's a really great thing that finally we've got a prize that is an English-language prize that doesn't make a distinction for writers who are writing from a particular country."
That the Booker is recently open to Americans, who threaten to trump writers from smaller nations, isn't the only negative feedback its received. This year's longlist only included three women, and excluded Canadian authors altogether. As an alternative, The Guardian has promoted its third annual Not the Booker Prize, for which the winner, Simon Sylvester, received a coffee mug.