Call it performance, composition or body art -- anyway you spin it, Moscow-based artist Dmitry Morozov's "Reading My Body" is a sound-meets-science feat.
In essence, Morozov, also known as ::vtol::, has created a tattoo capable of producing music when scanned with a special instrument. He has one on his own body -- an eight-inch long design that appears like a mysterious barcode on his forearm, featured in the video above. With the slide of an eerie, cyborg-like machine, the design produces avant-garde noise appealing to the most highbrow of listeners.
So how does it work? According to The Creator's Project, the scanning instrument consists of "arduino nano, a metal railing, hand controllers, and a black line sensor (on the tattoo)." A motor guides the mechanism along the inked design, with the lengths of each bar equaling the duration of various sounds. The addition of a Nintendo Wii controller equipped with Open Sound Control enhances the sound possibilities; if he moves his appendage, an accelerometer transforms the movement into distortion.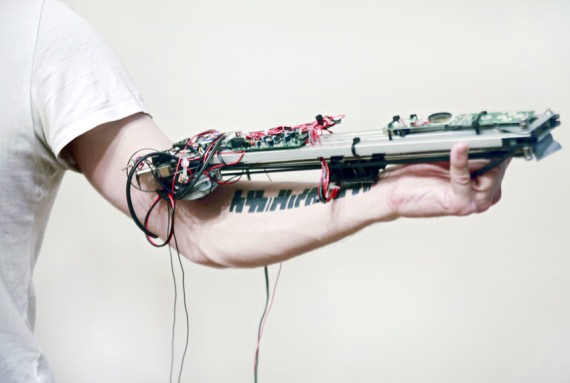 "I wanted to combine two passions -- electronic music and robotics -- and I already had tattoos," Morozov explained to Wired. Thankfully, he was already a guitarist and self-taught engineer too.
The media master is known for his barcode artworks that turn the cryptic data representations into glitchy contemporary art pieces. Though he has yet to commercialize his music tattoo, he has displayed his tech-savvy creation in Moscow, Kaliningrad, and Berlin.
Check out the unlikely marriage of tattoos and music above. For more mesmerizing takes on technology and art, check out Russian designer Vladimir Kuchinov's Generative Gatsby here. And for an extra dose of impressive ink work, check out our list of Instagramming tattoo artists here.
BEFORE YOU GO
PHOTO GALLERY
Amanda Wachob's Tattoo Art