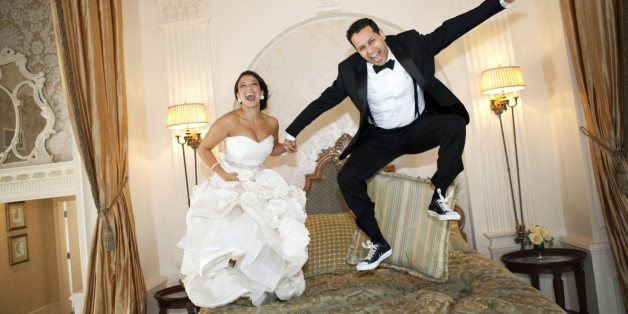 Before tying the knot, every couple imagines what their wedding night might look like -- some combination of rose petals, champagne and hours of mind-blowing sex come to mind.
But the truth is, sex rarely is the main event -- if it happens at all. Below married Redditors weigh in on what really happens on the wedding night:
1.You cuddle.
"For the first time in my life I said, "Can we just cuddle tonight?". I was too drunk."
2. You eat wedding leftovers and laugh until it hurts.
"The day was exhausting from all the... everything. I anticipated this, so our flight out for our honeymoon wasn't until the next day. We left the reception and drove an hour to a nice hotel near the airport. We spent the evening eating leftovers from our reception and talking/laughing about the big day. Then we slept, and it was wonderful."
3. You fall asleep.
"We were both mentally and physically exhausted by the time we made it to the suite so we went straight to bed. To sleep."
4. You soak in a hot tub, and maybe have some sex.
"We soaked in the huge tub in our hotel room...and had sex."
5. Or you take a bath, but don't have sex.
"Took a bath, fell asleep."
6. You watch movies in bed.
"We were pretty wiped but we stayed up and watched 'Dumb and Dumber' in the hotel room."
7. You eat delicious junk food.
"Sex, then ate Oreos in bed. 10/10."
8. You spend time with friends.
"Sex, then drinking with friends."
9. You get ready for bed as a married couple for the first time.
"We went home, he helped me take the pins out of my hair, and then I took a shower to get all of the hairspray out. Then we went to bed."
10. You order room service and pop champagne because you finally have the rest of your life to hang with your BFF.
"It was awesome! We ordered room service so we didn't have to leave the room and the hotel gave us a complimentary bottle of champagne. We went to sleep that night wrapped around each other, completely exhausted from the days events. The next morning, we woke up on polar opposite sides of the California king bed with our backs to each other. This is when we learned that we are not snugglers."
Find more wedding ideas and inspiration over on Pinterest!
Follow HuffPost Wedding's board Fall Weddings on Pinterest.
Keep in touch! Check out HuffPost Weddings on Facebook, Twitter and Pinterest. Sign up for our newsletter here.
BEFORE YOU GO
PHOTO GALLERY
Wedding Night Sex Confessions