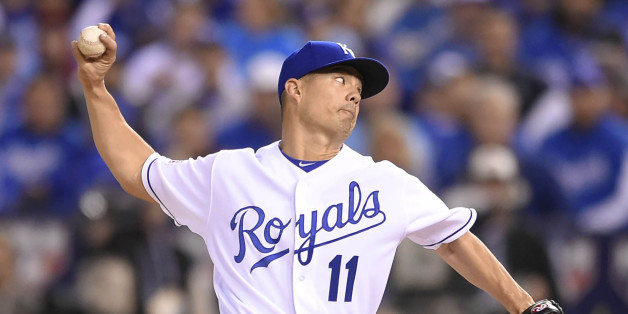 Kansas City Royals pitcher Jeremy Guthrie rubbed some salt in the Baltimore Orioles' wound after his team took a 3-0 series lead on Tuesday night. Following a start where he only allowed one earned run over five innings, Guthrie sat down for his postgame press conference wearing a royal blue shirt that said, "These O's Ain't Royal" (apparently a reference from a Chris Brown song).
Here's Jeremy Guthrie post game in a "These O's Ain't Royal" T-shirt. pic.twitter.com/IUbZQ7UiQ5

— Dan Connolly (@danconnollysun) October 15, 2014
Guthrie, who spent five seasons with the Orioles from 2007 to 2011, sparked outrage among the Baltimore fanbase on social media with his shirt. After realizing that he angered many O's fans, Guthrie apologized on Twitter.
My intention was not to anger O's fans or friends w/my shirt 2night.I apologize to those offended.Did not consider this reaction.Go Royals.

— Jeremy Guthrie (@TheRealJGuts) October 15, 2014
Speaking to reporters before Game 4 on Wednesday, Guthrie expanded on his apology.
"I have very good friends on the Orioles," Guthrie said, via USA Today Sports. "Those who said, 'well, I thought that was pretty low, a low blow or inappropriate.' I apologized and they accepted."